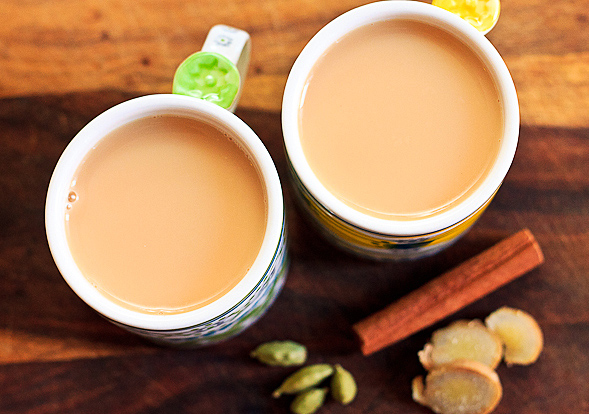 Masala chai, or mixed spice tea, is a drink from India made by brewing black tea with milk and a mixture of spices like cinnamon, ginger, cardamom and cloves. It's my go-to drink for this time of year and perfect for the holiday season. Instead of regular milk, I sometimes add almond milk whenever I make a fresh batch. The subtle flavor of the almonds is a nice complement to this aromatic tea.

Some people prefer unsweetened chai tea, however, I think some sweetness enhances the spices. For a healthier version, I added chopped dates to the mix but you can use honey or sugar. If you're vegan, you can use all almond milk in this recipe, or alternatively use 1/2 cup of regular milk to achieve a more familiar consistency. Serve with vegan cocoa almond cookies made from the leftover almond milk pulp.

Masala Chai – The Perfect Winter Drink
Warming spices like cinnamon and ginger are great during the cold winter months

The perfect drink if you're feeling sick and under the weather. The spice mixture is high in antioxidants and is said to help protect against cold and flu

If you need to avoid caffeine, Masala Chai has much lower caffeine content than coffee

The consumption of Masala Chai can calm an upset stomach
Use fresh ginger for an even healthier version; ginger also adds a nice kick to the tea
Feel free to play around with the amounts: Masala Chai is pretty forgiving so it's perfectly fine to alter the recipe. Experiment until you find your preferred taste

Click for recipe…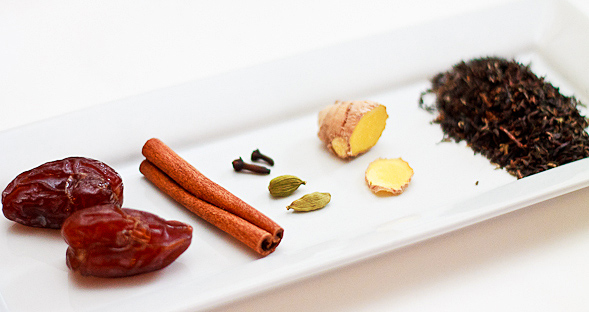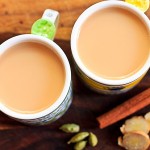 Masala Chai Recipe
3-4
cardamom pods
1
cinnamon stick
3-4 whole
cloves
1 inch piece of
fresh ginger, sliced
2-3
dates, chopped
1/8 teaspoon
freshly ground pepper
3 cups
water
1/2 cup
almond milk
1/2 cup regular
milk (use all almond milk for vegan version)
2 heaping tablespoons of
loose leaf black tea (Darjeeling or Assam)
honey or vanilla sugar (optional for more sweetness)
Lightly crush cardamon pods, cinnamon and cloves in a mortar and pestle.

Put water in a pot and add crushed cardamon, cinnamon, cloves, ginger, dates and black pepper. Bring the mixture to a boil, then simmer for 4 minutes. Remove from heat and let the spices infuse their flavor for another 4-5 minutes.
Add the milk and almond milk to the pan and bring back to a boil. Remove from heat and add the tea. Cover the pot, remove from heat and let it steep for 4-5 minutes.
Masala Chai is ready! Use a fine sieve and strain it into a teapot or directly into serving cups. Add honey or vanilla sugar if you like sweeter tasting tea.

Total Time: 15 minutes
Yield: 4 servings


print recipe
[Sign up for my newsletter or follow me on facebook / twitter to get new recipes]