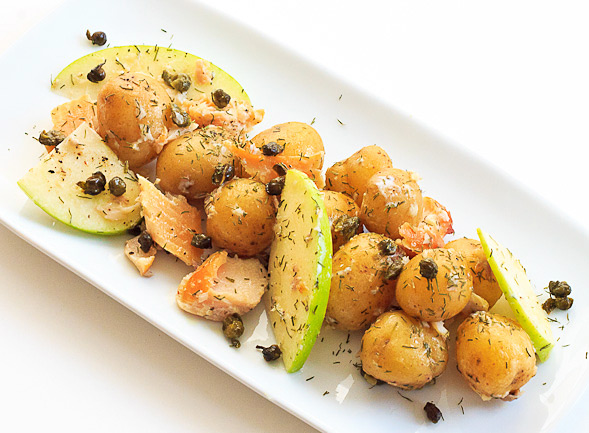 The other day I bought a pack of smoked trout, not really sure what I was going to make with it. I've never cooked with smoked trout before, only salmon. So I searched online for a basic recipe using what I had in my kitchen. What I found was a delicious warm potato salad I saw on myrecipes.com.

This is a salty and tart tasting salad, something not many people would adhere to but I enjoy it very much. I changed the recipe a little bit by adding a fresh lemon and more capers. I also like mixing the sour cream or yogurt into the bowl with the rest of the ingredients to give it a creamier texture. You can always add a dollop extra when serving if you prefer.

Click for recipe…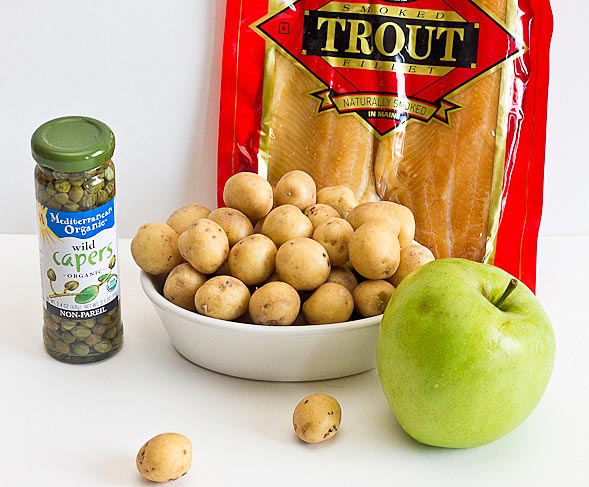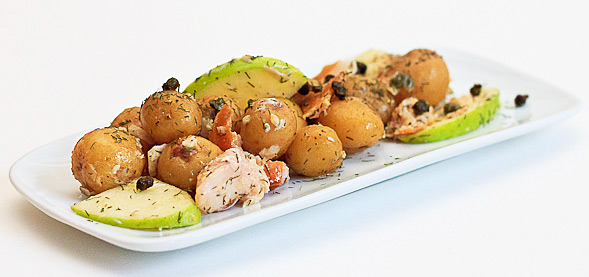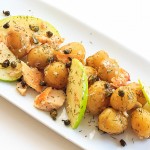 Warm Potato Salad with Smoked Trout Recipe

1 1/2 – 2 pounds
small-sized potatoes
8 ounces
smoked trout, skins removed
1/4 cup
capers, rinsed and drained
1
tart green apple, cubed or thinly sliced
1/3 cup
olive oil
1
lemon, juiced
1 teaspoon
black pepper
1-2 teaspoons
dried or fresh dill, chopped
1/4 cup
sour cream, yogurt or creme fraiche
Cook potatoes in a pot of boiling water for about 15 minutes. Drain and set aside.
Heat a small pan over medium-high and add olive oil. Add capers and cook until brown and crisp, about 2 minutes and set aside. Oil may splatter so be aware.
In a large bowl, mix lemon juice, pepper and capers with olive oil from the pan (reserve some capers for sprinkling at the end). Add in potatoes, trout, apple, and dill and stir gently. Sprinkle more fried capers over the top. Serve warm with a dollop of sour cream, if desired.
Total Time: 30 minutes
Yield: makes 4-6 servings


print recipe
[if you enjoyed this post, please sign up for my newsletter to get the latest recipes]