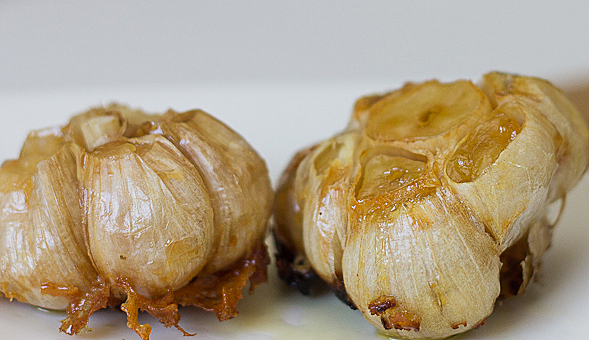 I use garlic in so many recipes, it is probably my favorite ingredient ever. Garlic is extremely healthy and roasting the whole head is one my favorite ways to use it. Roasting caramelizes and adds sweetness to the garlic leaving it more mild and palatable to people who can't tolerate raw garlic. It also gets soft so you can squeeze it out of its skin. Here are 10 different ways you can use your roasted cloves:


Make a Spread –  Simple but delicious when spread on some crusty bread (see photo below)

Use in Baked One-Pot Dishes – My Baked Sausage post is a good example
Add to Pasta – A great way to add lots of flavor to pasta. See recipe here
Pizza Topping – For a milder, sweeter flavor, use roasted garlic instead of raw

Mashed Potatoes – Prepare as usual and mash in garlic together with the potatoes
Make Herbed Garlic Butter – Soften butter, chop herbs and mix with mashed garlic
Puree into a Dip – Throw in Food Processor with some white beans or yogurt
Throw into a Salad – Roasted garlic would be a nice addition to a simple salad like this one
Garlic-infused Oil – Roast a whole bunch of garlic heads and strain the leftover olive oil to keep for other recipes
Eat by itself – If you truly love garlic, eat on its own!


Click for recipe…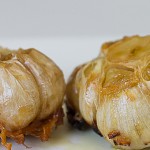 Roasted Garlic Recipe
2
garlic bulbs
olive oil
Preheat oven to 400°F.
Peel away outer layers of the skin around the garlic bulb. With a knife, cut about 1/4 inch off the top of the bulbs. Drizzle with olive oil until well coated.

Wrap each bulb with aluminum foil and place in a baking pan (see photo). A muffin pan would also work. Bake for 30-40 minutes until golden brown and soft inside (use a toothpick or fork to test).


Total Time: 40-45 minutes
Yield: Makes 2 roasted garlic bulbs

[if you enjoyed this post, please sign up for my newsletter to get the latest recipes]