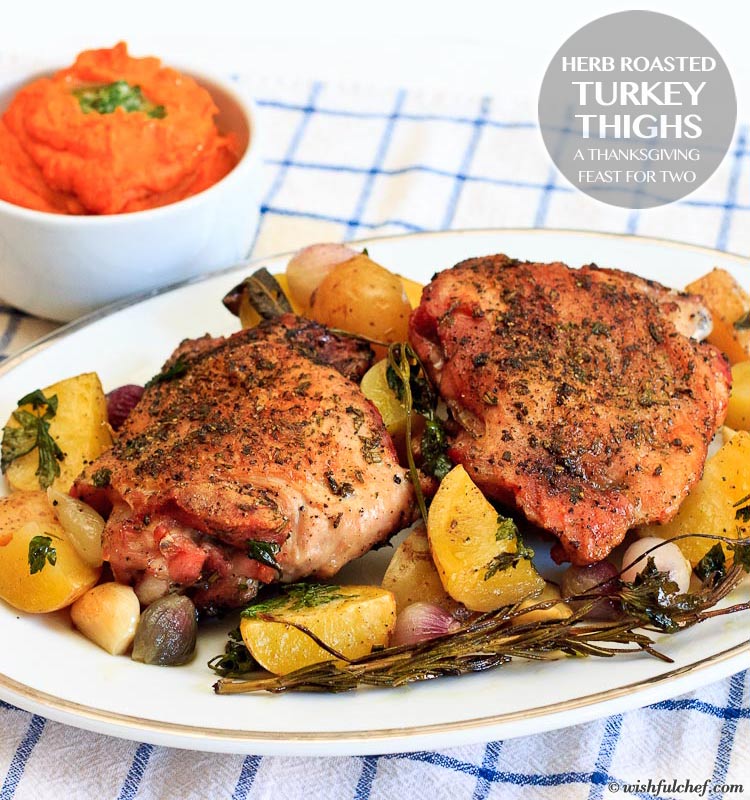 Just in time for Thanksgiving, I want to bring back this popular post from 2011 with updated images. And if you're like me and love to build out meal plans on Pinterest, pin this recipe's step-by-step image to your recipe board.
The original post is below:
This year, before spending a more hectic Thanksgiving with family, I decided to create a quiet feast fit for two. I loosely adapted this recipe from an article in the NY Times. I love the flavor and juiciness of roast chicken thighs, so I was thrilled to try turkey thighs for the first time. During the final half hour of roasting, I added potatoes, garlic cloves, pearl onions and whole sprigs of herbs to create a wonderful one-pot meal.

I used a nice free-range turkey from a local farm. A great way of keeping the turkey moist is to roast everything in broth, which I then made into a quick gravy. As an additional side dish I made mashed sweet potatoes topped with homemade herbed garlic butter.

Click for recipe…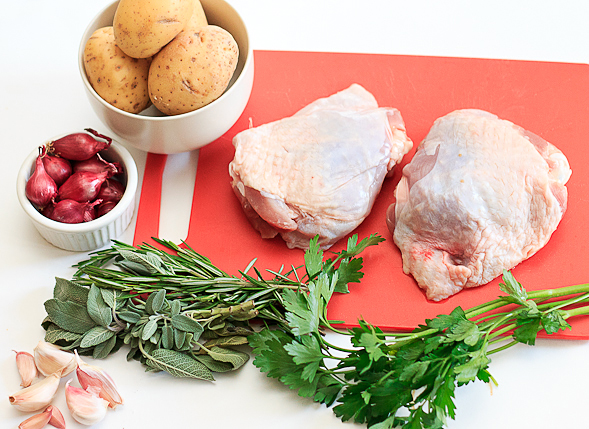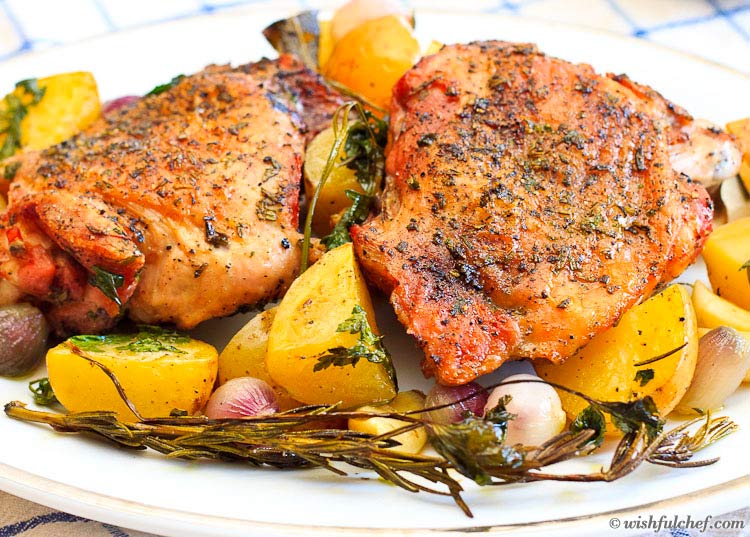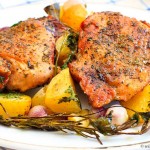 Herb Roasted Turkey Thighs Recipe
2

turkey thighs

a handful of

garlic, peeled

a handful of

pearl onions, peeled

4 small

potatoes, cut into chunks

2 cups

unsalted chicken broth

2 sprigs of

sage

2 sprigs of

rosemary

2 sprigs of

parsley

2

bay leaves

a sprinkle of

olive oil

salt & pepper, to taste
Preheat oven to 400°F. Let turkey thighs sit at room temperature for about 30 minutes before cooking.
Gather a few leaves from each herb sprig and finely chop to make about 2 teaspoons each. Rub chopped herbs onto each side of the turkey thighs along with a sprinkle of salt and pepper. Place thighs skin side down in a deep roasting pan. Bake for about 30 minutes.
Turn thighs over, then add potatoes, pearl onions, garlic, bay leaves and herb sprigs. Pour in broth and sprinkle all with a little more salt & pepper, then drizzle some olive oil on top. Roast for another 30-40 minutes, until thighs are done and potatoes are tender. Stir the potatoes once during roasting. Remove pan from oven, let thighs and potatoes sit covered with foil for about 20 minutes before serving. Place turkey and vegetables on a serving platter.

Turkey Gravy Recipe
strained leftover broth

flour

salt & pepper, to taste
Strain leftover broth into a small pan. Turn heat on high and whisk in flour a little at a time for desired thickness. If needed, season with salt and pepper. Pour into gravy vessel.

Total Time: 80 minutes
Yield: Makes 2 large servings


print recipe
[if you have leftovers, be sure to check out my turkey noodle soup]