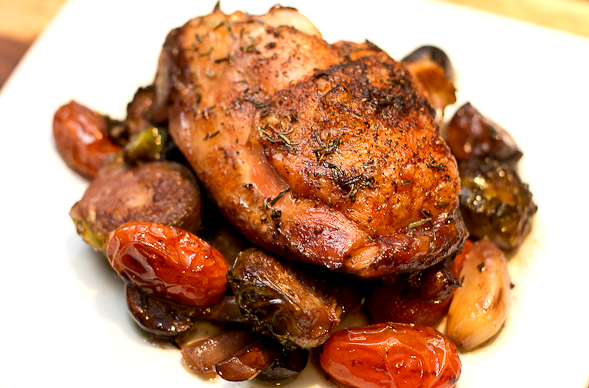 I enjoy coming up with different one-pot dishes. I love the idea of placing all of the ingredients together and letting the oven do the rest of the work. This dish in particular was inspired by my chicken baked in beer and white wine roast chicken. I baked chicken thighs in red wine and added a lot of vegetables for a complete meal.

For the vegetables I used what I had on hand, whole cherry tomatoes, mushrooms and Brussels sprouts, but you can really use any vegetables you want. Carrots and potatoes would also work great in this recipe.  Don't forget to pair this dish with the leftover red wine used to cook the chicken in!


Click for recipe…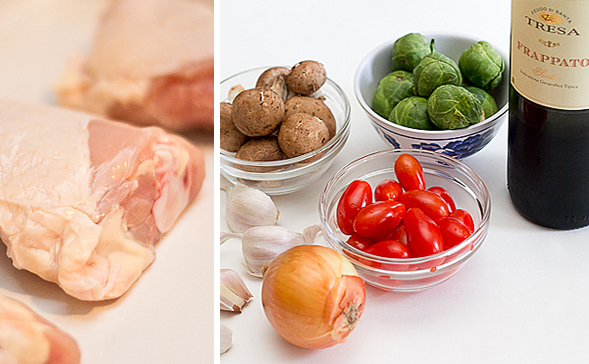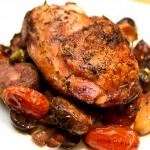 Chicken Thighs Baked in Red Wine Recipe
4
chicken thighs
1 1/2 cups
red wine
1/2 cup
cherry tomatoes
1/2 cup
Brussels sprouts, halved
1/2 cup
cremini mushrooms, halved
1 small
onion or shallot, quartered
6-8
garlic cloves
1 tablespoon
olive oil
2
bay leaves
2 teaspoons
dried thyme
1 teaspoon
salt
1 teaspoon
pepper

Preheat oven to 400°F.
Place chicken thighs in a large baking pan. Put in tomatoes, mushrooms, brussels sprouts, garlic, onions, bay leaves and red wine. Top chicken and vegetables with dried thyme and salt & pepper then drizzle with olive oil. Depending on the size of your chicken thighs, bake for an hour to an hour and a half, until golden brown. Baste the chicken with the wine every 15-20 minutes and stir the ingredients around a bit. If your chicken is cooked and the wine is not yet cooked down, place chicken on a warm plate then cook the wine and vegetables more in the oven. The wine and vegetables will create a delicious sauce and side dish.

Total Time: 60-90 minutes
Yield: 4 servings


print recipe
[if you enjoyed this post, please sign up for my newsletter to get the latest recipes]