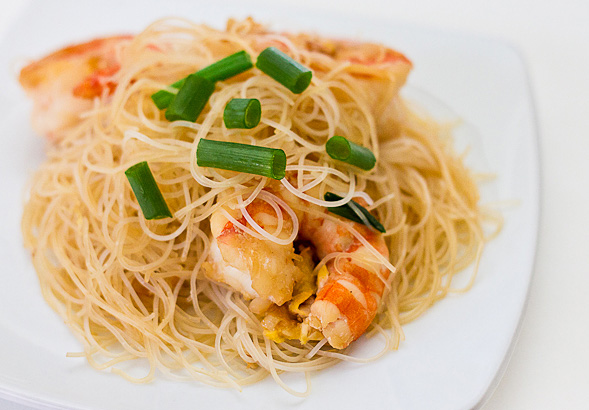 I love coming up with quick dishes on the whim with whatever ingredients I have in the kitchen. Asian noodle dishes always come to mind, whether they're in soups or stir fries. I used rice vermicelli noodles which are light and versatile, you can mix virtually anything with them. They absorb flavors and enhance your ingredients beautifully. Try this out if you're having a lazy day and want something quick and simple.

Have fun with this dish. If you don't have shrimp, add whatever ingredients you want like pork, beef or vegetables. When you soak your noodles, stir them around a little in the water bath. I also like to cut into them with kitchen shears. Sometimes tossing them with your ingredients is somewhat difficult if your noodles are long.

Click for recipe…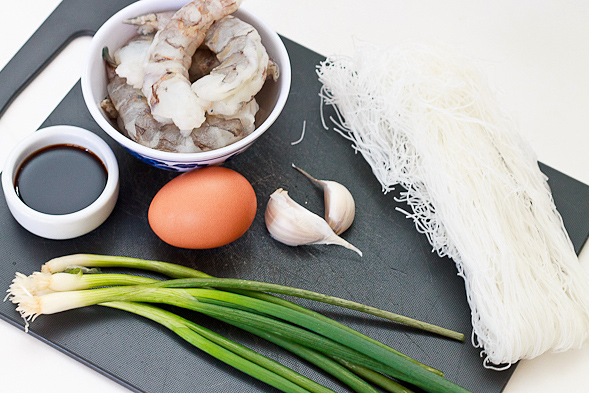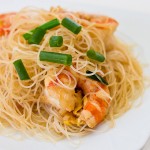 Quick Asian Noodle Recipe with Shrimp and Scallions

1 tablespoon
oil
4 ounces
dried rice vermicelli noodles
2
garlic cloves, chopped
1
egg
1 pound
shrimp, peeled and deveined
2 tablespoons
soy sauce
1/2 teaspoon
fish sauce or salt
1/2 teaspoon
sugar
1 teaspoon
ground pepper (I used white)
3-4 sprigs
scallions, roughly chopped

In a small bowl, stir together soy sauce, fish sauce and sugar. Allow sugar to dissolve and set aside. Then soak rice vermicelli noodles in hot water until soft, about 3 minutes. Drain and set aside.
Heat oil on medium-high heat in a wide pan or wok and sauté garlic for 1-2 minutes, until golden brown. Crack an egg into the pan and quickly scramble into the oil and garlic. Then add shrimp and stir until they turn pink. Add soy sauce mixture, pepper and scallions and quickly stir. Add rice vermicelli noodles and stir for a minute. Toss all ingredients together until well incorporated. To serve, sprinkle more chopped scallions on top.
Total Time: 15 minutes
Yield: Makes 4-6 servings


print recipe
[Sign up for my newsletter or follow me on facebook / twitter to get new recipes]