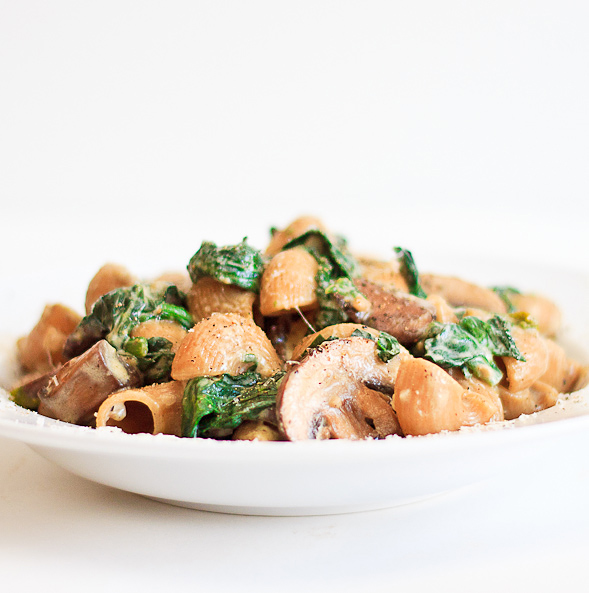 My husband and I have been super busy lately working on an online food business; we're almost ready to launch, stay tuned for a post on that soon :). So for lunch I decided to make pasta, one of my go-to ideas for quick and easy meals. The key ingredient that make this pasta recipe so delicious is Italian mascarpone cheese. Most people know it from tiramisu, but you can most definitely use it for savory dishes.

This is a great vegetarian pasta recipe if you're trying to cut down on your meat consumption. Using whole wheat pasta, mushrooms and spinach makes this dish nice and hearty. Who says you need to eat meat to get full?

Click for recipe…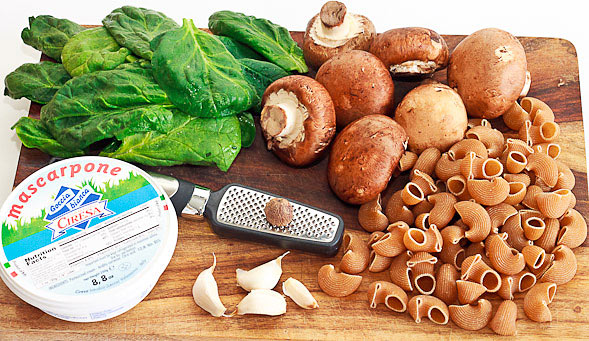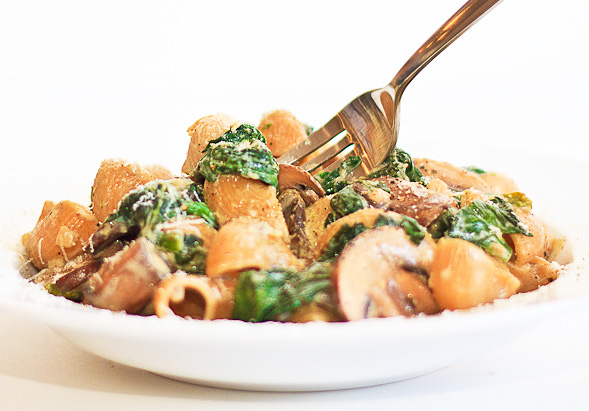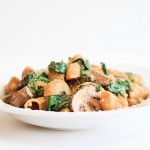 Pasta with Mascarpone Recipe

2-3 tablespoons
olive oil
8 ounces
small whole wheat pasta (I used chiocciole)
4 ounces
mascarpone cheese
8 ounces
crimini mushrooms, sliced
2 cups
spinach, roughly chopped
3-4 cloves
garlic, minced
1/2 a
nutmeg, freshly grated
1/4 cup
grated Parmesan cheese, and more for garnish
salt and pepper, to taste
Cook the pasta according to package instructions, until al dente. Reserve about a 1/2 cup of pasta water for the sauce.
Heat a pan with olive oil. Add garlic and cook for about 30 seconds. Mix in sliced mushrooms and grate nutmeg over top and stir for about 5-7 minutes, until mushrooms soften and reduce in shape. If mushrooms are still too dry add a little more olive oil. Add spinach and mix until wilted, about 3-4 minutes.
Stir in mascarpone cheese, pasta water and Parmesan cheese. Season with salt and pepper. Add pasta and toss well to incorporate ingredients. To serve, top with fresh pepper and more grated Parmesan cheese.
Total Time: 30 minutes
Yield: makes 4 servings


print recipe
[if you enjoyed this post, please sign up for my newsletter to get the latest recipes]