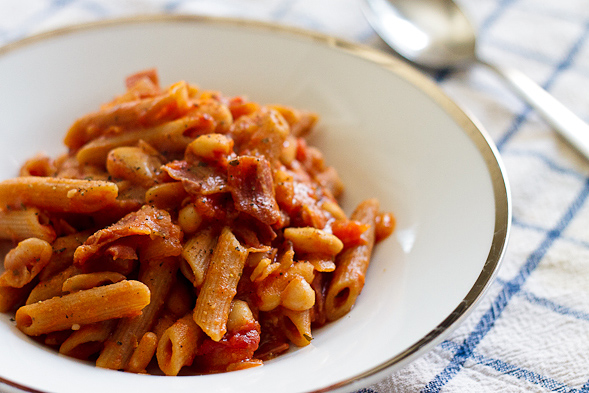 Pasta and beans, or Pasta e Fagioli, is a staple in Italian cooking. Like many Italian dishes, it started as a peasant meal consisting of basic, widely available ingredients. I love cooking with both pasta and beans, so I enjoyed preparing a dish that combines the two. The result is a well rounded dish where the beans provide a good amount of protein to the pasta. Leave out the butter and prosciutto for an excellent vegan meal.

I used canned cannellini beans and penne pasta but feel free to use any kind of small pasta instead. A few slices of crispy prosciutto add more flavor and a dash or two of red pepper flakes provide some extra kick. Enjoy with a nice glass of Chianti or other medium-bodied Italian red wine. Buon appetito!

Click for recipe…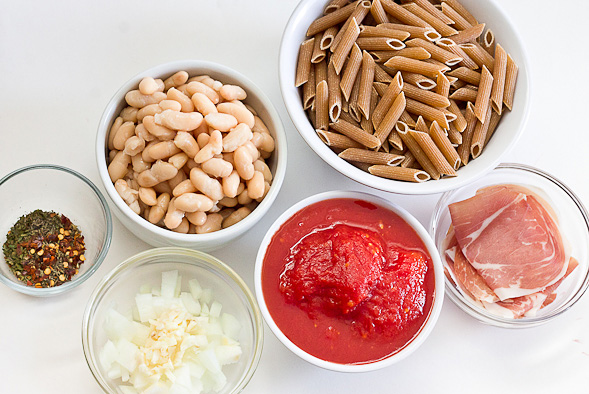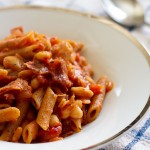 Penne Pasta with Cannellini Beans and Prosciutto Recipe
2 cups
penne pasta
1 small
onion, chopped
2
garlic cloves, chopped
4 slices of
prosciutto, cut into small strips
1 can
cannellini beans, rinsed and drained
1 can
tomato sauce or diced tomatoes
1 teaspoon
dried oregano
1 teaspoon
dried parsley
1 teaspoon
red pepper flakes
1 tablespoon
butter
salt and pepper, to taste

Cook pasta according to package instructions, until al dente. Reserve about a 1/4 cup of pasta water for cooking at the end if the sauce needs more liquid.
In a pan on medium heat, add the prosciutto strips and cook for about 2 minutes until crisp and set aside on a plate. Add onions and garlic and saute for 4-5 minutes. Stir in tomato sauce and herbs and cook for 10 minutes. Add cannellini beans and simmer for another 10-15 minutes.
Stir in prosciutto and season with salt and pepper. Mix in butter and then the pasta. If it seems dry, just add some pasta water.
Total Time: 40 minutes
Yield: 4 servings


print recipe
[if you enjoyed this post, please sign up for my newsletter to get the latest recipes]