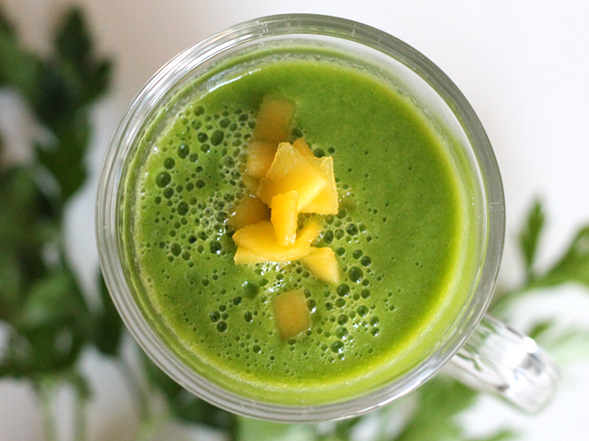 This is my first – of hopefully many more – green smoothie recipes. It's great for beginners as it only involves a few ingredients…..mangoes, parsley, water and ice. Make sure your mangoes are very sweet and ripe, otherwise the taste will be bitter and sour. If your mangoes aren't ripe enough, place them in a brown paper bag the night before you use them. For extra sweetness, add one or two dates into the mix.
This smoothie is incredibly creamy, the color is a beautiful lime green and the blend of mango and parsley result in a fresh summer flavor. I recommend drinking this chilled, which is why I added ice. Smoothie can be kept chilled overnight.


Click for recipe…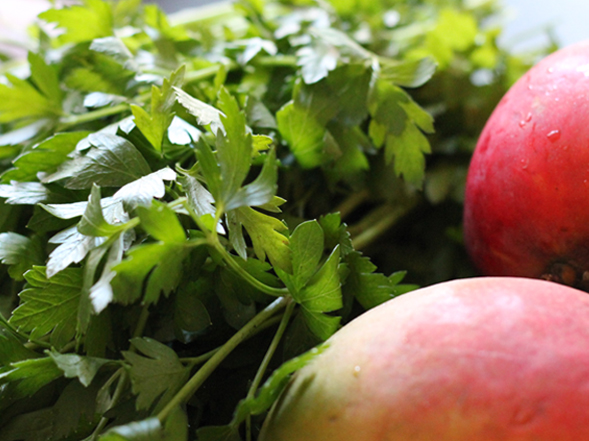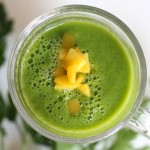 Parsley and Mango Green Smoothie Recipe
1/2 bunch
Italian flat-leaf parsley (no need to remove stems)
2
ripe mangoes, peeled and sliced
1 cup
water
2 cups
ice
Cut mangoes into nice size chunks or slices, then roughly chop parsley. Add mango, parsley, water and ice to blender. Blend on high until everything is smooth and creamy. As for most green smoothies, I highly recommend a powerful blender. On my Blendtec I use the highest setting for up to 60 seconds to get the right consistency.

[For more information on why I love green smoothies, please read my introductory post here]
Total Time: 10 minutes
Yield: 4 cups


print recipe