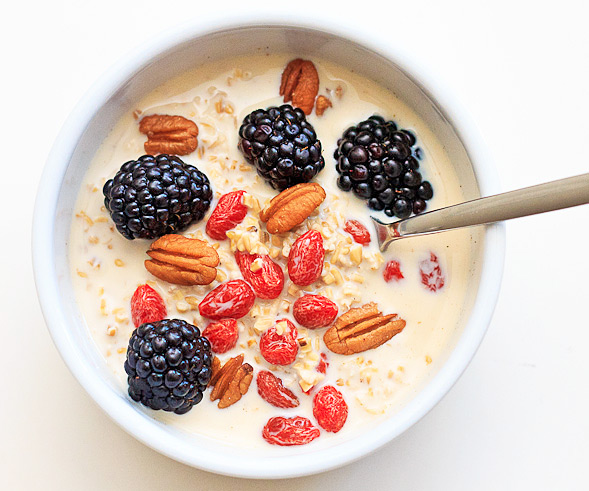 Steel-cut oatmeal is one of our staple breakfasts. I'm so used to the chewy and hearty texture that I have a hard time eating classic rolled oats these days. And steel-cut oats are even more nutrient-packed than regular oats. The big problem, however, is that cooking steel-cut oats is too time consuming for many people. So a great no fuss alternative is to soak the oats overnight, no cooking involved. This method is so simple, you can have different variations of steel-cut oats every week!

I like using my homemade almond milk for the nutty flavor, but regular milk works just as fine. Feel free to play around with the ingredients. If you have fresh berries or any kind of dried fruit, throw them in. Believe me, anything will work.

Click for recipe…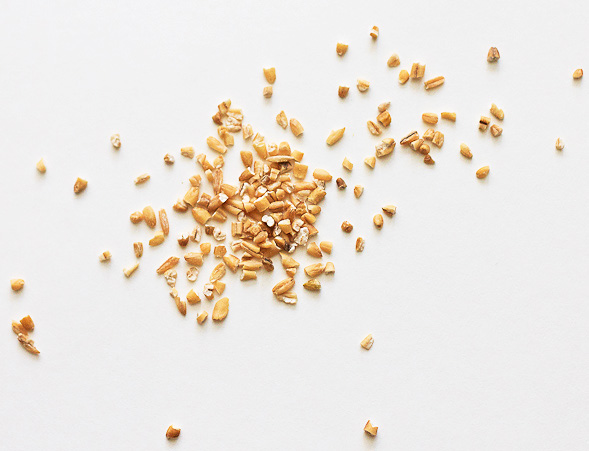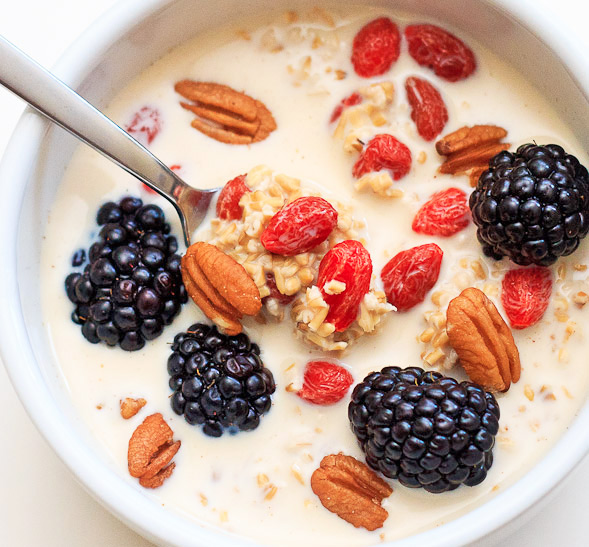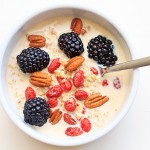 Simple No-Cook Steel-Cut Oats
1/2 cup
steel-cut oats
1 cup
almond milk, or regular
2 teaspoons
maple syrup, honey or agave, or to taste
a handful of
goji berries or raisins, or to taste
a dash of
cinnamon
fresh berries, for topping
nuts or cacao nibs, for topping
Mix together all ingredients except toppings. Refrigerate in a covered bowl overnight to soften the oats. Eat cold or at room temperature and top with fresh berries, nuts and/or cacao nibs.
Total Time: 10 minutes (then added soaking time)
Yield: makes 2-4 servings


print recipe
[Sign up for my newsletter or follow me on facebook / twitter to get new recipes]