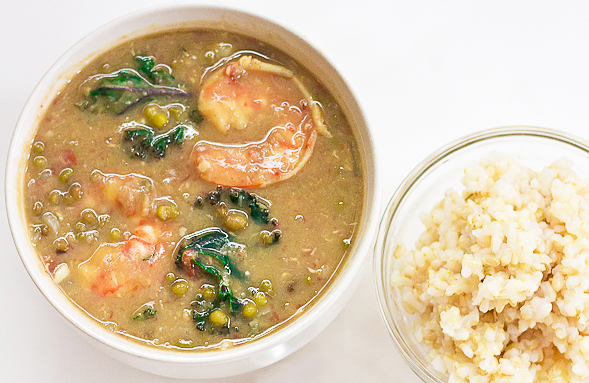 There are certain dishes that take me back to when I was a kid and this recipe is one of them. It's a simple stew consisting of mung beans, a small green bean native to India and popular in the Philippines for sweet and savory dishes. Mung beans are also where bean sprouts grow from. My mom would always add shrimp and leafy greens or bitter melon to the pot. I had some kale greens on hand which tastes just as delicious in this stew.

You also don't have to pre-soak the mung beans which makes this recipe much easier. I like this stew a little creamy so I cook it a little longer, but cook to your desired consistency. For a vegetarian option, just omit the shrimp and fish sauce. Monggo guisado is typically served with smoked fish and tomatoes or steamed rice.


Click for recipe…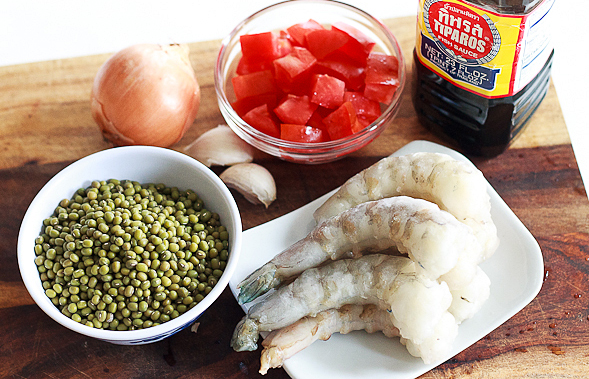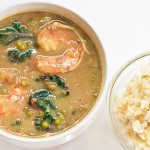 Filipino Mung Bean Stew Recipe
1 cup
dried mung beans
1 tablespoon
vegetable or canola oil
1 small
onion, chopped
2
garlic cloves, chopped
1/2 cup
chopped tomatoes
5 cups
water
1-2 tablespoons
fish sauce (patis), or salt to taste
1/2 pound
shrimp, cleaned with shell or no shell
1 bunch
greens, like spinach or kale (optional)

In a large pot over medium-high heat, sauté garlic and onions in oil for about 3 minutes. Add chopped tomatoes and cook until softened, about 5 minutes. Add the mung beans and water. Stir and bring to a boil. Turn heat down to a simmer and cover pot. Cook for about an hour or until mung beans are soft to your liking. Add more water if the stew is too thick. Add shrimp and fish sauce to the pot. You may need to adjust the fish sauce to your taste. Stir and cook for about 10 more minutes, until shrimp is cooked through. Stir in greens right before serving. Serve with steamed rice.

Total Time: 70 minutes
Yield: 6-8 servings


print recipe
[if you enjoyed this post, please sign up for my newsletter to get the latest recipes]