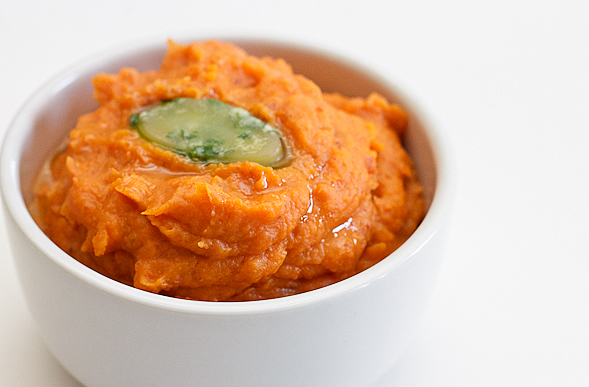 This is one of the easiest mashed sweet potatoes recipes to make. I quickly whipped it up as I was roasting my herb turkey thighs recipe. Besides the sweet potato, all you need is milk, salt and pepper. To finish it off, top the mash with homemade herbed garlic butter or some turkey gravy to make for a fantastic Thanksgiving side dish.

I only used one sweet potato because it was quite large, but use as many as you like. I never peel potatoes when I cook them, and when you hand blend it you won't even notice it. Also, you can add in a regular potato for a less sweet flavor.

Click for recipe…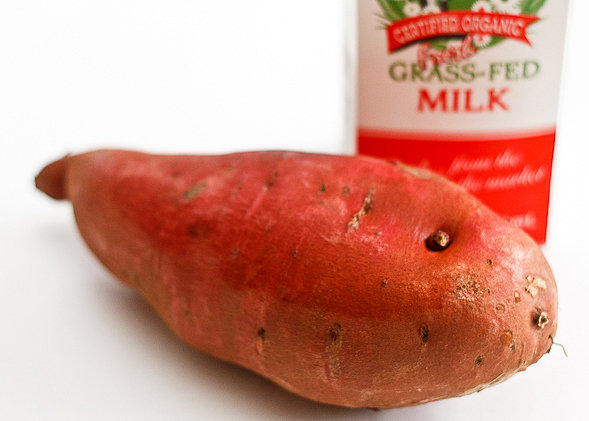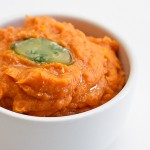 Mashed Sweet Potatoes Recipe
1 (or more) sweet potatoes, washed and cut into chunks
milk, to taste
salt & pepper, to taste

Add potato chunks to a pot and pour in enough water to cover. Bring water to a boil and cook until tender, about 20 minutes. With a blender or hand mixer, blend the potatoes and slowly add milk to desired texture. Season with salt and pepper. Serve with herbed garlic butter or turkey gravy.
Total Time: 30 minutes
Yield: Makes 2-4 servings


print recipe
[if you have leftover mashed potatoes, use them to make a delicious sweet potato dessert]