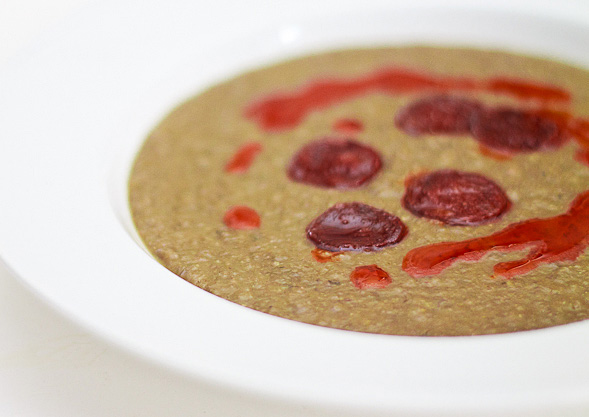 This recipe is an adaptation from Laura Calder and one of my absolute favorite lentil soups to make. Even though the main ingredient is lentils, I think the chorizo is the real star. The flavor combination of the creamy lentils and crisp smokey chorizo go together perfectly. The bright orange chorizo oil makes a fantastic looking garnish and compliments the creamy lentil flavor.

Though it's a simple recipe, the final result is an elegant and delicious comforting soup. This can easily be made in advance and heated up when ready. Serve this alongside a shrimp salad at your next dinner party and wow your guests!

Click for recipe…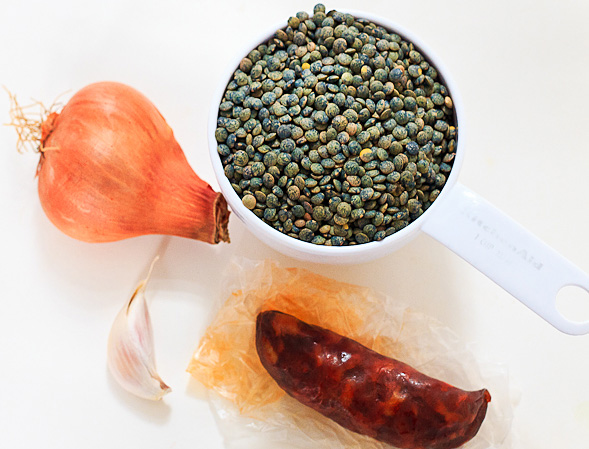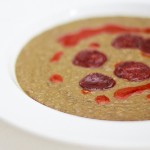 Creamy Lentil Soup Topped with Chorizo Recipe
3 tablespoons
olive oil
1 large
shallot, chopped
1 large
garlic clove, chopped
1 cup
French green lentils
1 tablespoon
dried thyme
1
bay leaf
4-5 cups
stock or water
1 small link of
chorizo sausage, sliced thin
salt and pepper, to taste

In a large pot, saute garlic and shallot in a bit of olive oil for 2-3 minutes. Stir in lentils, herbs and stock. Cover the pot and simmer until very tender, about 45-50 minutes.
Discard the bay leaf and let the lentils cool for a few minutes, then puree with a hand blender or place in a blender and blend until desired creaminess. Add more stock if texture is too thick and salt and pepper, to taste. Keep soup warm in pot.
In the meantime, heat olive oil in a small pan on medium-high heat, and crisp the chorizo slices for about 30 seconds on each side. Serve the soup with the chorizo slices and a drizzle of the bright-orange cooking oil spooned on top.
Total Time: 70 minutes
Yield: 4-6 servings


print recipe
[Sign up for my newsletter or follow me on facebook / twitter to get new recipes]