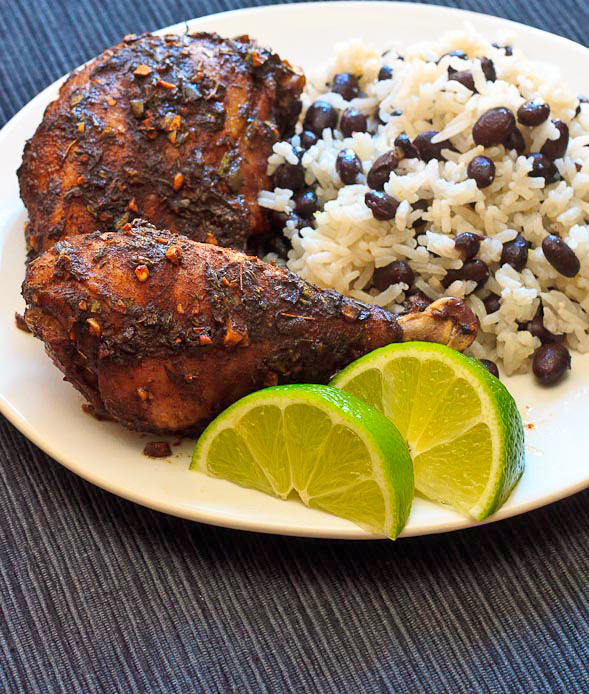 If you love the bold flavors of Caribbean food, then this recipe is for you! The first time I had jerk chicken I was hooked and wiped my plate clean. Jerk chicken seasoning is based on chili peppers and Jamaican allspice, which is one of the most important spices used in the Caribbean. The preparation is easy with just a few simple steps and some marinating.

This dish is full of robust flavor and warm spices, complimented by a fragrant coconut rice and beans. I recommend black beans for the rice, but pinto beans work as well. Try to marinate the chicken at least for three hours and preferably overnight. As for the spice level, for a mild to medium heat, use jalapeño chilis. If you want it hot and spicy, use habanero chilis or the traditional Scotch bonnet peppers.

Click for recipe…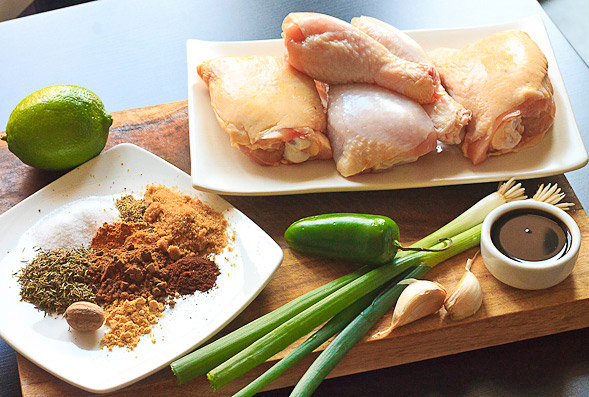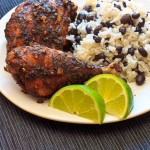 Jamaican Jerk Chicken with Coconut Rice and Beans
2-3 pounds

chicken pieces

, drumsticks and thighs

4 stalks

fresh scallions, minced

8 cloves

garlic, minced

2

chili peppers

, stemmed and chopped (Jalapeño, Habanero or Scotch Bonnet)

4 tablespoons

soy sauce

2 tablespoons

oil

(olive, peanut or vegetable oil)

1 whole

lime, juiced

4 tablespoons

light brown sugar

4 teaspoons

Jamaican allspice

2 teaspoons

ground ginger

2 teaspoons

ground cinnamon

2 teaspoons

ground nutmeg

1 teaspoon

ground cloves

2 tablespoons

dried thyme

2 teaspoons

black pepper

4 teaspoons

salt

a splash of

rum

, optional
Coconut Rice and Beans
1 cup

long grain rice

1 tablespoon

oil or butter

1

shallot, chopped

1 clove

garlic, chopped

3/4 cup

coconut milk

1 cup

water

a pinch of

ground nutmeg

1 teaspoon

salt

1 15-ounce can of

black beans, rinsed and drained
Finely chop scallions, 8 cloves of garlic and 2 de-seeded peppers, then add to a large bowl. Into the same bowl, stir in brown sugar, spices, dried thyme, soy sauce, oil, juice of one lime, and a splash of Jamaican rum (optional). Add the chicken pieces and toss together until fully coated in the marinade mixture. Cover bowl with plastic wrap and marinate the chicken in the fridge for at least 3 hours or overnight. When ready to cook, heat oven to 350°F and bake chicken for 45-55 minutes.
While chicken is cooking start on the rice. Add butter or oil in a small saucepan over medium heat. Stir in chopped shallot and garlic, cook until soft, about 3 minutes. Stir in rice then pour in the coconut milk and water. Season with nutmeg and salt. Bring to a boil, then reduce heat to medium-low. Cover and simmer until the liquid has been absorbed and rice is tender, about 18 minutes. Stir in the black beans and cook for a few minutes until hot.
Total Time: 60 minutes, plus 3+ hours marinating time
Yield: 4 servings


print recipe
[if you enjoyed this post, please sign up for my newsletter to get the latest recipes]