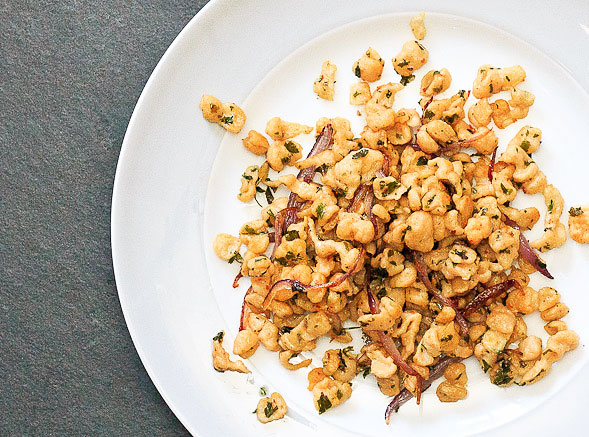 Spaetzle (spelled Spätzle in German) is a traditional side dish eaten throughout Germany. I didn't know what it was until my first trip there and instantly loved it. Peasant food that dates back hundreds of years, spaetzle is an egg noodle, similar to dumplings, made of basic ingredients: flour, salt and eggs. There are many different ways to enjoy spaetzle. You can eat it freshly cooked with a thick saucy stew or lentils. I also like to saute my spaetzle with sliced onions and fresh herbs (see the main image).

The egg noodles are made by preparing a thick dough and dropping small noodle shapes into boiling water. It's easiest if you have a hopper or spaetzle maker, but if you don't (I own this sliding hopper), a large-holed sieve or potato ricer would work as well. Or you can handcut the dough (see this post on Serious Eats for more info). For the dough, I used about 50% whole wheat flour for some extra fiber, but feel free to adjust your ratio as desired.

Click for recipe…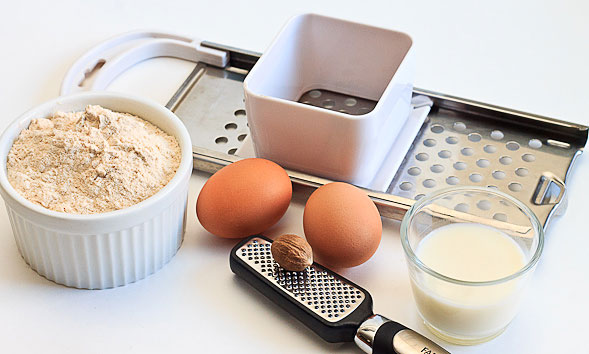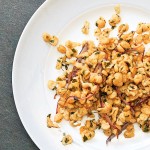 How to Make Spaetzle

1 heaping cup of

flour

(I used half whole wheat)

1/2 teaspoon

grated nutmeg

1/2 teaspoon

salt

1/4 teaspoon

white pepper

2

eggs, beaten

1/4 cup

milk
Mix together flour, nutmeg, salt and white pepper. Add beaten eggs and milk to the dry ingredients and mix until smooth. Fill a large pot with water and bring to a boil, then reduce heat to a simmer once you're ready to cook the dough.
Press about a 1/2 cup of dough through a spaetzle maker or a large holed sieve above the simmering pot of water. Do this step in batches and cook for 2-3 minutes, until the spaetzle rise to top and look cooked. Lift with a slotted spoon and drain well.
Serve with a stew or creamy mushroom sauce. Or prepare how I did: Saute sliced onions in butter or olive oil. Then add spaetzle and cook until golden brown. If desired, sprinkle Emmentaler cheese on top to make a Käsespätzle, or cheese spätzle.
Total Time: 25-30 minutes
Yield: 4 servings


print recipe
Note: This post contains affiliate links
[if you enjoyed this post, please sign up for my newsletter to get the latest recipes]