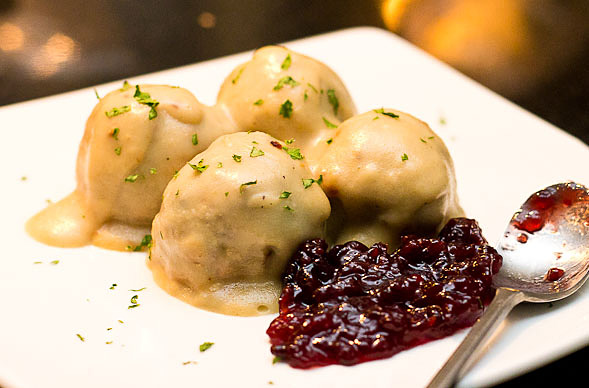 In my previous post I baked some turkey meatballs as a nice appetizer idea for Super Bowl Sunday and they were so good my husband wanted more! This time I used the same recipe but with ground pork and a nice side of Swedish meatball sauce to go with it.
IKEA may have made Swedish meatballs popular, but cooking them yourself is much better. I love the salty and sweet combination of the gravy together with Lingonberry sauce. If you don't have Lingonberry sauce, just use your favorite jelly flavor. I like mine a little tart so something like raspberry jelly would be nice.

Click for recipe…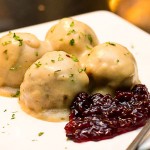 Easy Swedish Meatballs Recipe

For the meatball recipe, see my turkey meatballs, but use ground pork or beef.
For the sauce:
2 tablespoons
butter
1 1/2 tablespoons
flour
1-2 cups
broth (depending how thick you want your sauce)
a splash of
cream
salt and pepper, to taste
Lingonberry, raspberry or cranberry jelly
Heat a pan on medium and add butter. Once melted, whisk in flour to make a roux (mixture of flour and butter).
Slowly whisk in a cup of broth, pouring a little at a time to evenly combine the roux. The sauce will become thick and silky. Add more stock if sauce is too thick. Stir in cream and season with salt and pepper. Add meatballs and stir and coat with sauce. Cover the pan and heat for about 10 minutes. Place meatballs and sauce on a serving platter and serve with Lingonberry jelly.
Total Time: 45 minutes
Yield: 4-6 servings


print recipe
[Sign up for my newsletter or follow me on facebook / twitter to get new recipes]