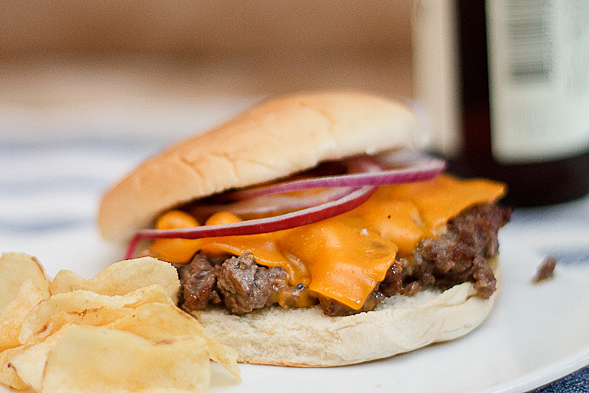 If you're planning on making a burger for Labor Day but don't have a grill, try this pan-fried version. My burger is simple and only uses a few ingredients. The recipe is adapted from Serious Eats which has a great section on burgers called A Hamburger Today.

Here's what's unique about this burger:
The meat is hand chopped (I use prime chuck and I also suggest experimenting blending different cuts like Brisket and Short Rib). You will need a high quality, sharp knife, ideally a Chinese cleaver. Just make sure it's very sharp.
The chopped meat is then loosely pushed together instead of tightly shaped into a patty (see photos below). Don't worry about bits and pieces falling apart when frying the patty, this is normal and part of the fun.
The loosely connected meat allows for the cheese to melt and soak in perfectly. This makes for a super juicy and tasty burger. Hand chopping your beef gives this burger an incredible fresh beef flavor that you won't find in store bought ground meat. It's well worth the effort. The patty is pan-fried on high heat, so the outside is crispy while the inside remains juicy. We usually like to buy grass-fed, pasture raised meats, but for this recipe we went with grain finished meat from a local butcher. The only toppings are some raw onion rings and organic yellow American cheese. No need for anything else as it would only take away from the flavor.


Click for recipe…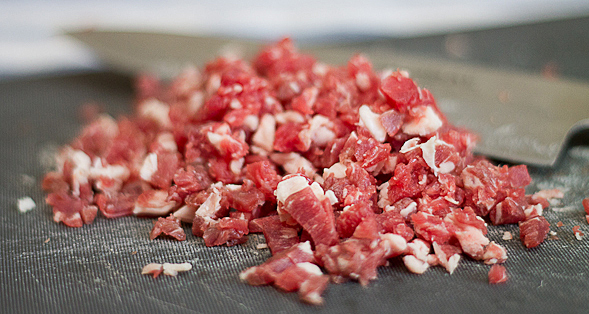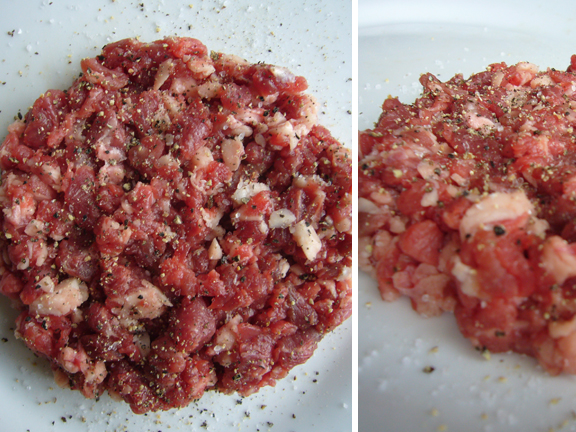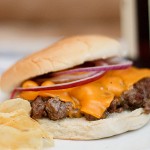 Hand-Chopped Cheeseburger Recipe

1 pound
prime chuck with a good amount of fat (experiment with other cuts as well)
grape seed oil, or any high smoke point oil
4
soft burger buns
4 slices
yellow American Cheese
sliced onions (optional)
salt & pepper

Make sure your meat is cold prior to cutting. You can place it in the freezer for about 30-60 minutes prior to chopping it. Chop your meat with a sharp knife into small chunks (see photo). Now heat up a shallow heavy-duty pan on at least medium-high heat and add cooking oil.

Form four 4-ounce patties by just lightly pushing the meat together into circular shapes. Don't worry if they're not perfect and have strayed meat on the sides. DO NOT pick it up and tightly pack the meat together like you would normally do with a ground beef patty. Generously add salt and pepper to one side and with a wide spatula, carefully flip and add to the other side. With your wide spatula, slide the patties into the hot skillet. Cook for about 2 minutes, then carefully flip and add the cheese. Cook for another minute or so. Place patties on buns and add the sliced onions. Enjoy!

Total Time: 20-25 minutes
Yield: 4 Servings