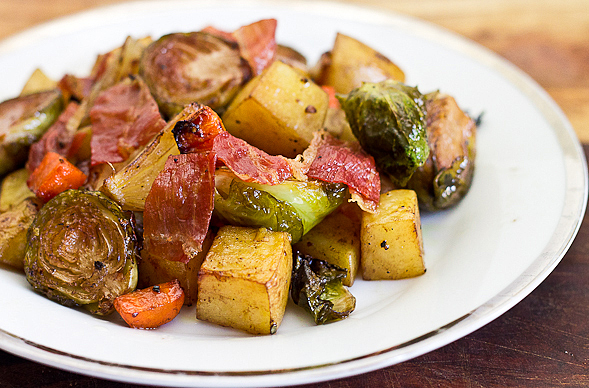 Roasted vegetables are a staple appetizer in my kitchen. It's forgiving and a nice way to use up any left-over vegetables you may have in your pantry or fridge. This time of year I always keep some Brussels sprouts and potatoes on hand which make for a nice combination when roasted together. Top with some crispy prosciutto (or bacon) for flavor and you have a nice side dish or standalone entree.
See my other one-pot meals for more inspiration on how to use up left-over ingredients. You can pair this recipe with my crispy salmon or herb pork chops.

Click for recipe…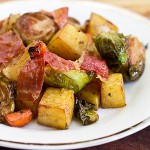 Roasted Potatoes, Brussels Sprouts and Carrots Recipe
3-4 slices
prosciutto, cut into pieces (optional)
1/2 pound
Brussels sprouts, trimmed and halved
1
-2 potatoes, cut into large cubes
2-3
carrots, roughly chopped
1 small

onion

, cut into wedges
3-4
garlic cloves, roughly chopped
3 tablespoons
olive oil
1 tablespoon
balsamic vinegar
salt and pepper, to taste
Preheat oven to 400°F.
Heat oil over medium heat in a small pan. Add the prosciutto pieces and cook until crisp. Remove with a slotted spoon to a plate and set aside.
Place the Brussels sprouts, potato, carrots, onion and garlic cloves in a roasting dish. Pour in balsamic vinegar and olive oil. Season with salt and pepper and mix well. Cook for about 40-45 minutes, stirring mixture halfway to evenly brown. When finished, place vegetables on serving platter and top with crispy prosciutto.
Total Time: 50 minutes
Yield: 4-6 servings
[if you enjoyed this post, please sign up for my newsletter to get the latest recipes]