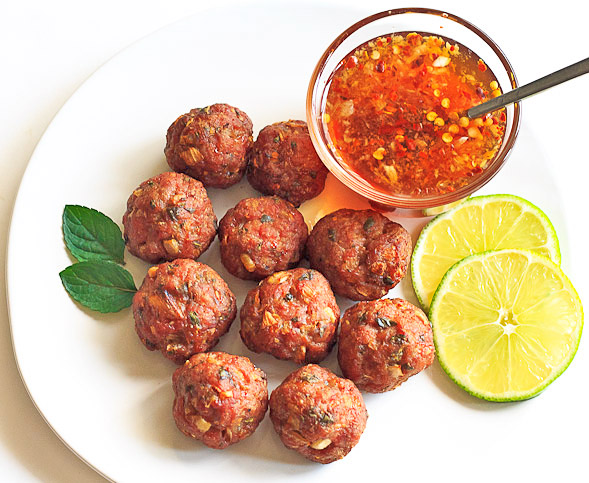 When my husband and I lived in San Diego, we ate Vietnamese food pretty much every week. There was a popular Pho restaurant we would frequent for their delicious (and cheap!) Pho noodle soups, vermicelli noodles and Summer rolls. When I ordered vermicelli noodles I always had it with grilled pork or pork meatballs. The meatballs were so flavorful and juicy, made with fish sauce, sugar and mint, a popular Vietnamese combination. Here is my version of Vietnamese meatballs paired with a sweet and tangy dipping sauce.

If you don't have fish sauce, you can use soy sauce instead. When the meatballs are done cooking, I like to add an extra squeeze of lime juice on top. Serve these meatballs with dipping sauce, steamed rice and fresh vegetables.

Click for recipe…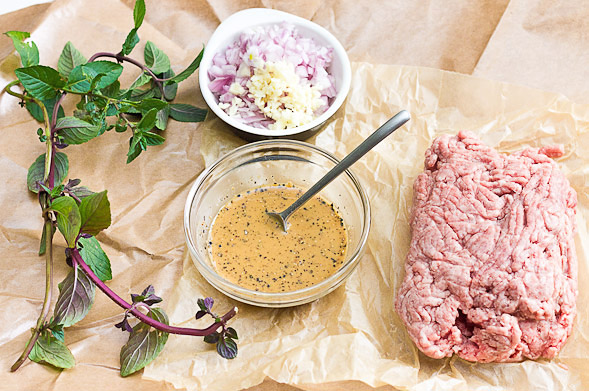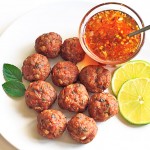 Baked Vietnamese Pork and Mint Meatballs
1 pound
ground pork
1 large
shallot, finely diced
1 clove
garlic, finely diced
2-3 tablespoons
chopped mint
2 tablespoons
cornstarch
2 teaspoons
agave nectar or sugar
1 tablespoon
fish sauce
2 teaspoons
soy sauce
Vietnamese Meatballs Dipping Sauce
1/4 teaspoon
crushed red pepper flakes
1 clove
garlic, crushed
1 1/2 tablespoons
agave nectar or sugar
2 tablespoons
fish sauce
1/2 of a
lime, juiced
2 tablespoons
water
Preheat oven to 400° F. Lightly grease a sheet pan with oil and set aside.
In a bowl, mix all ingredients together thoroughly with your hands. Roll into about 30-40 meatballs and place on pan. Bake until golden brown, about 20-25 minutes or until cooked through and not pink in the middle. While cooking, prepare the dipping sauce. In a mortar and pestle, crush garlic and red pepper into a paste. Place paste in a small serving bowl and stir together with agave nectar, fish sauce, lime juice and water. Serve meatballs with the Vietnamese dipping sauce, steamed rice and vegetables.
Total Time: 30-40 minutes
Yield: makes 30-40 meatballs


print recipe
[Sign up for my newsletter or follow me on facebook / twitter to get new recipes]