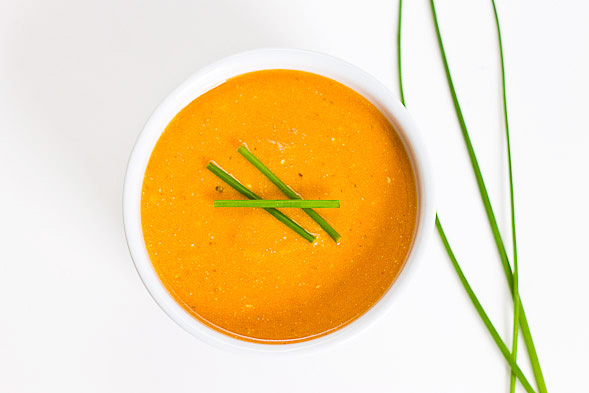 I love Greek food and try to incorporate the Mediterranean diet into my cooking (and eating) as much as I can. I love the fresh flavors, the quick and easy recipes and most importantly the strong emphasis on fruits and vegetables. Here is a delicious tomato yogurt soup recipe I adapted from a Greek cookbook I have. The result is a beautiful bright orange-colored soup that tastes fresh and creamy. You can eat it hot or cold, perfect all-year round!

To balance the acidity of the tomatoes, yogurt is mixed in which gives this soup a silky smooth texture. Sun-dried tomatoes and honey are added for a subtle sweet flavor, then a dash of cayenne pepper for a nice kick. Serve this soup with crunchy garlic croutons on top. I've also made these amazing crispy baked zucchini rounds last night. They would be a nice addition to serve with this soup; click here for the recipe (and make sure to have some stale bread on hand for the homemade breadcrumbs).

Click for recipe…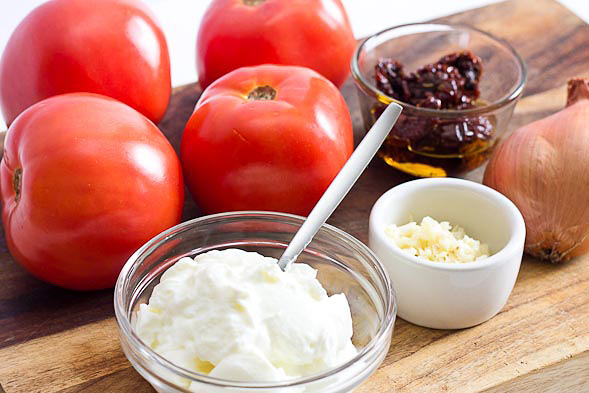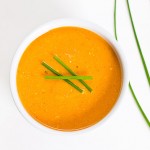 Spicy Tomato and Yogurt Soup Recipe

4 large
tomatoes, chopped
2-3 tablespoons
olive oil
1 large
shallot (or small onion), chopped
3
garlic cloves, chopped
2 cups
vegetable broth
4
sun-dried tomatoes packed in olive oil, chopped
1 teaspoon
dried thyme
2 teaspoons
fresh chives, chopped
1-2 teaspoons
cayenne pepper
1 tablespoon
honey
1 cup
plain Greek yogurt
salt and pepper, to taste
Heat a large pot on medium. Add chopped shallots and garlic and cook for 5 minutes, until soft. Add the chopped tomatoes and cook down for 8-10 minutes.
Add the vegetable broth, sun-dried tomatoes, herbs and honey. Bring to a boil, then simmer for about 15 minutes. Then allow to cool.
Using a hand blender, puree the soup until nice and creamy. Season with salt and pepper, then mix in yogurt. Serve hot or cold.
Total Time: 40-45 minutes
Yield: 4-6 servings


print recipe
[Sign up for my newsletter or follow me on facebook / twitter to get new recipes]