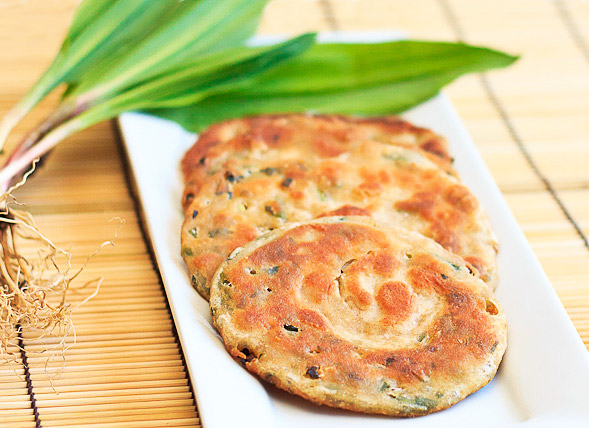 Ramps (or wild leeks) are finally here! One of my favorite seasonal vegetables, they're only available for a few weeks a year. Ramps are a delicious cross between garlic, onions and leeks. Here in NYC, you know they've arrived when chefs all over the city add ramp dishes onto their menus. I love coming up with different ways to incorporate them into my cooking. I've been craving Chinese scallion pancakes, so I decided to make a version using ramps. I found the perfect scallion pancake recipe on my friend Diana's blog.

For the pancake dough, I used a mix of white and whole wheat flour. To roll out the dough, I followed Diana's detailed step-by-step process which was very helpful. My husband and I enjoyed the pancakes plain or with a dipping sauce made from a mixture of soy sauce, sesame oil, rice vinegar and more chopped ramps.

Click for recipe…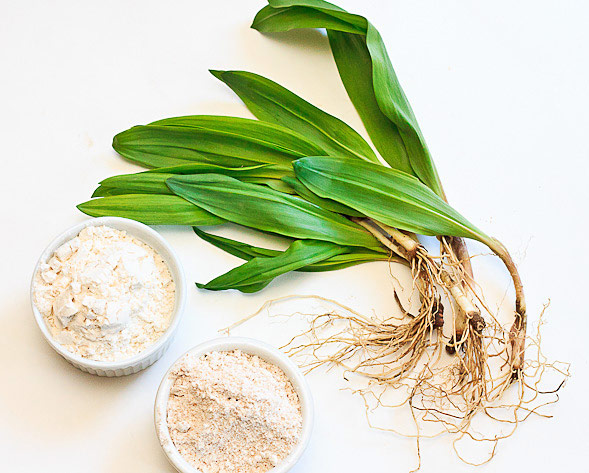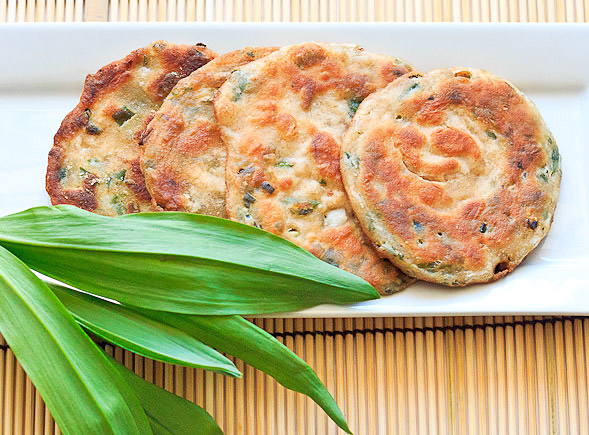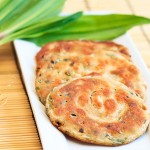 Ramp Pancakes Recipe

1 1/2 cups

flour, sifted

(I used a mixture of white and whole wheat)
1 teaspoon
yeast
1/2 cup
warm water
1 teaspoon
sugar
2 teaspoons
salt
3-4 tablespoons
vegetable oil
1 cup
ramps, finely chopped
In a small bowl, add yeast into warm water to dissolve, then stir in sugar. To prepare the dough, half and sift flour into 2 separate bowls. In one bowl, stir in yeast-water until mixture forms a dough. In the other bowl, to the flour add 1 teaspoon of salt and slowly pour in a 1/2 cup of boiling water, quickly stirring until dough forms. Mix in 2 tablespoons of vegetable oil. On a floured surface, combine the 2 doughs and knead both together. Place in a bowl and cover with a damp towel. Allow the dough to rise for about 30-40 minutes.
When dough has risen, on a floured surface, slice dough into small balls and roll each out flat into circles. Brush on a little oil and then top with some chopped ramps and a pinch of salt. Roll the circle in, then roll again lengthwise, like a snail (see photos). With the spiral facing up, roll out flat into a thin circle.
To cook, heat a flat skillet on medium-high and add oil. Pan-fry the pancakes in batches for about 2-3 minutes on each side. Serve alone or with preferred dipping sauce. For my sauce, I paired it with a combination of 1 teaspoon of sesame oil, 2 tablespoons light soy sauce, 2 teaspoons rice vinegar and finely chopped ramps. Freeze whatever you don't cook.
Total Time: 30 minutes (plus 30 minutes for dough)
Yield: makes about 20-25 pancakes


print recipe
[if you enjoyed this post, please sign up for my newsletter to get the latest recipes]