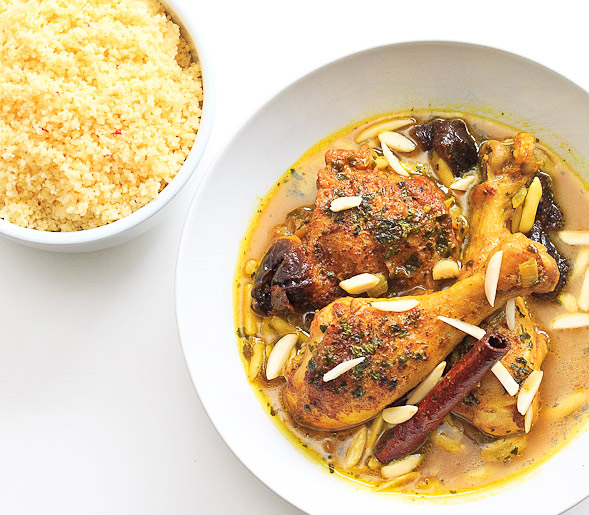 I haven't posted in over a week, and the reason is this very recipe. We've been testing this delicious Moroccan Tagine for our recipe kit venture GrubKit.com over the past week or so. I'm excited to share this dish with all of you!

This recipe takes chicken drumsticks (and/or thighs) and lets them simmer with exotic spices like cardamom, coriander, turmeric and dried apricots and prunes to create a meal that's delicious, complex and a little sweet. The key to this dish is the time it simmers. That time lets the spices work their magic and slowly tenderize and "melt" the meat. Your kitchen will be filled with a cornucopia of aromas. For a complete meal, enjoy this dish with a side of saffron couscous (recipe below).

Click for recipe…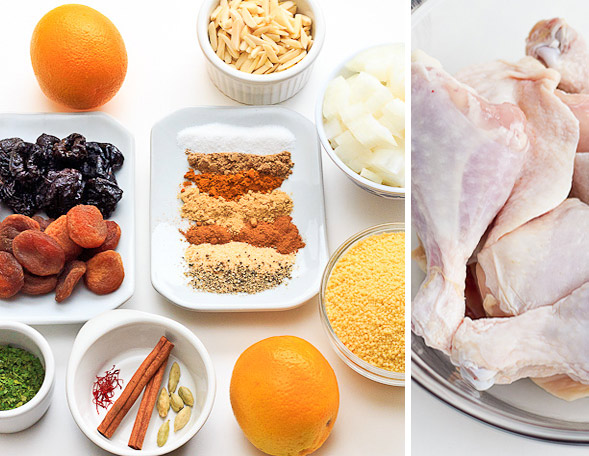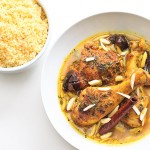 Moroccan Tagine
2-3 pounds
chicken pieces, like drumsticks and thighs
2 tablespoons
olive oil
1 cup
chopped onions
1/2 teaspoon
salt
Spice Rub
1 teaspoon
salt
1/2 teaspoon
pepper
1 teaspoon
ground cinnamon
1 teaspoon
ground ginger
1/2 teaspoon
turmeric
1 teaspoon
granulated garlic
1/2 teaspoon
ground coriander
2
oranges, juiced
1 cup
water
2
cinnamon sticks
6
green cardamom pods
1/2 cup
dried apricots
1/2 cup
dried pitted prunes
1 tablespoon
dried parsley
1/2 cup
slivered almonds
Saffron Couscous
1 cup
couscous
1/2 teaspoon
saffron
a big pinch of
salt
Squeeze oranges, chop onions, lightly crush cardamom and cut dried fruit in half. Set all aside.
In a large bowl, combine chicken and spice rub, mix well. Heat a tablespoon of oil in a tagine or large skillet on medium heat. Brown half of the chicken pieces for 4-5 minutes on each side. Transfer to the same bowl, then brown remaining chicken. Set aside.
To the same pan, add about a tablespoon of oil, then chopped onions and a 1/2 teaspoon of salt. Cook until soft, about 8 minutes. Add chicken, water and orange juice. Bring to a simmer, cover and simmer gently for 20 minutes. Stir in dried parsley, cinnamon sticks, cardamom pods and dried fruit. Simmer for 20-25 minutes until chicken is tender. Add water if more sauce is needed.
Begin preparing the saffron couscous. About 15 minutes before serving, put 1-1/4 cups of water into a pot. Add the saffron and a big pinch of salt into the water. Bring to a boil and remove from heat. Stir in the couscous, cover and let stand for 5 minutes. Fluff with a fork before serving.
When the chicken is done, place on a platter. Stir most of the almonds into sauce and pour over the chicken. Sprinkle the remaining almonds over chicken. Serve with the saffron couscous.
Total Time: 60 minutes
Yield: Makes 4-6 servings


print recipe
[Sign up for my newsletter or follow me on facebook / twitter to get new recipes]