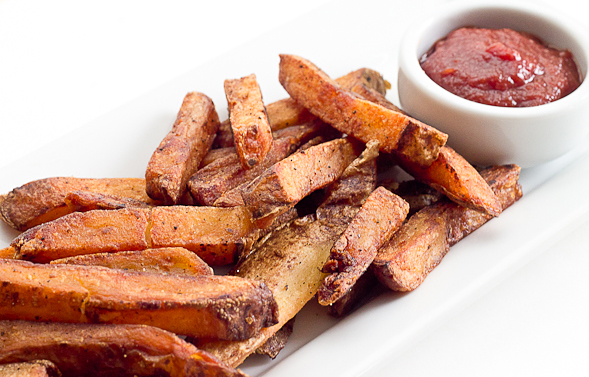 I'm excited to introduce a new category today: Tips & Techniques. I hope this will turn into a section that can provide you all with helpful tips to make home cooking a little easier. Feedback is much appreciated, so if you have any great tips or techniques to share, please add them via the comment form. The first tip I'm sharing is quite simple but very helpful nevertheless.
How to Reheat your Leftover French Fries the Right Way
I think this is a fitting first post in the new category. We all love French fries, but often times we have leftovers – my husband and I typically do since we try to limit our portions to avoid overeating. So last night we went to a great neighborhood bistro here in Brooklyn, NY and ended up with way too many fries for us to finish. And since I hate wasting food, I've decided to show you how I reheat my fries so they regain most of their crisp texture. The key here is high heat in a heavy-bottom pan, as opposed to throwing the fries into the oven or microwave. We need the direct contact to make them crispy.
Check out my other entry in the Tips & Techniques section, How to Make Homemade Garlic Mayo with a Hand Blender. It would go great with French fries.
Instructions below…
Coat pan with a high smoke point oil such as grapeseed or canola. Heat pan on medium-high, or until the oil begins to smoke. Add fries and coat with oil, stirring frequently. Depending on the thickness of your fries, cook for about 3-5 minutes.

[if you enjoyed this post, please sign up for my newsletter to get the latest recipes]