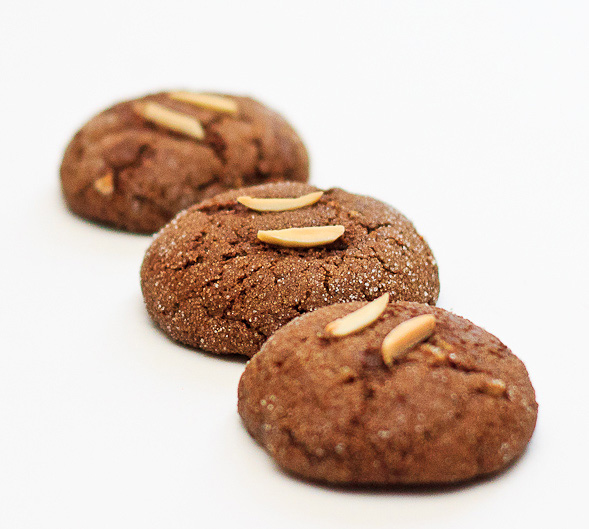 For the final recipe of our holiday cookie kit, I've prepared a traditional German Christmas gingerbread cookie, or Lebkuchen. Created by medieval monks, lebkuchen dates back to the 13th century in Germany and Switzerland. My version is made of ginger, molasses, almond extract and a good amount of spices like cloves, cinnamon and nutmeg. These cookies are soft on the inside and slightly crunchy on the outside, the perfect compliment to include in our holiday cookie kit.

Depending on your preference, you can add more or less spice. For embellishment, I topped the cookies with some slivered almonds. The three other recipes in the holiday cookie kit are Appetite for China's Green Tea Shortbread and my Cranberry Pistachio Biscottis and Mexican Hot Chocolate Chip Cookies.

Click for recipe…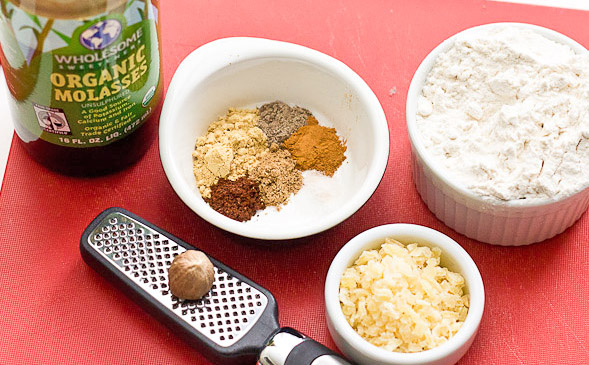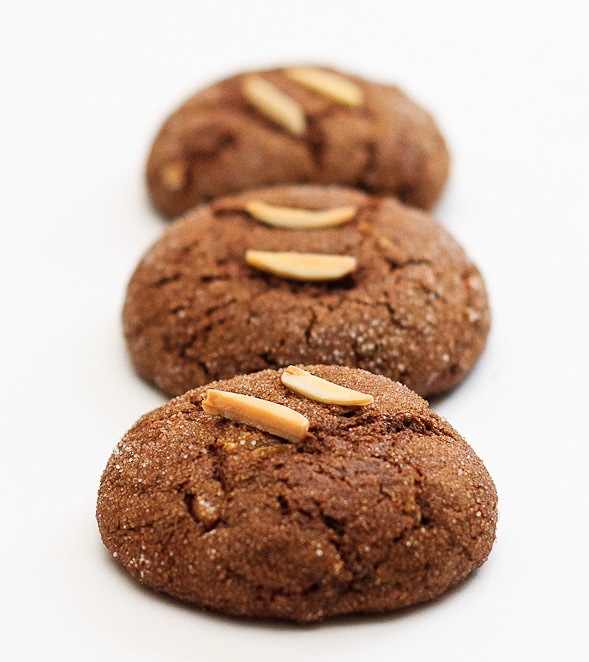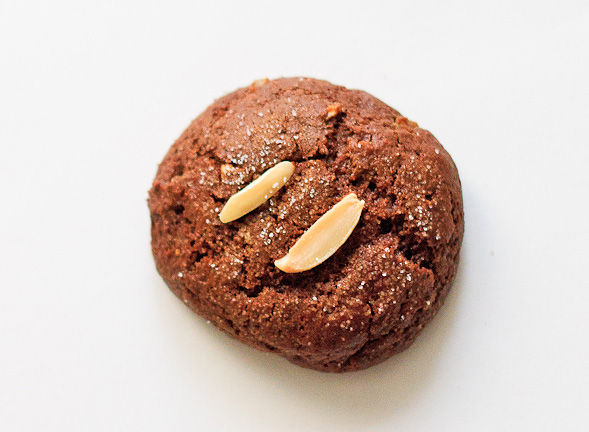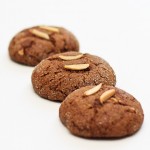 German Gingerbread Cookies (Lebkuchen)

1/4 cup
crystalized ginger, finely chopped
1 1/2 cups
flour
1/4 cup
brown sugar
1/4 teaspoon
salt
1 teaspoon
baking powder
1/2 teaspoon
baking soda
1 tablespoon
ground ginger
1/2 teaspoon
ground nutmeg
1/2 teaspoon
ground cinnamon
1/2 teaspoon
ground cloves
1/2 teaspoon
ground coriander
1/2 tablespoon
ground cardamom
1/2 stick of butter (2 ounces)
butter
1/4 cup
molasses
1
egg
2 teaspoons
almond extract
1/4 cup
sugar, for rolling
1/4 cup
slivered almonds, for topping
Preheat oven to 350° F. Lightly grease and line cookie sheets with parchment paper.
Place chopped crystalized ginger in a large bowl, then mix together with flour, brown sugar and spices. In a small saucepan on low heat, melt the butter and molasses together. Take off heat, then stir into the dry ingredients with an egg. Mix till it forms a stiff dough. Cover bowl with plastic wrap and cool to harden a bit in the fridge for about 10-15 minutes.
With your hands, roll the cookie dough into balls and roll balls around in sugar. Place on the prepared baking sheets with about 2 inches apart. Slightly flatten the balls with your fingers and top with a couple of slivered almonds on top. Bake for about 16-18 minutes until crisp on the outside and moist on the inside. Cool cookies on wire racks and store in an airtight container.
Total Time: 45 minutes
Yield: makes about 2 dozen cookies


print recipe
[if you enjoyed this post, please sign up for my newsletter to get the latest recipes]