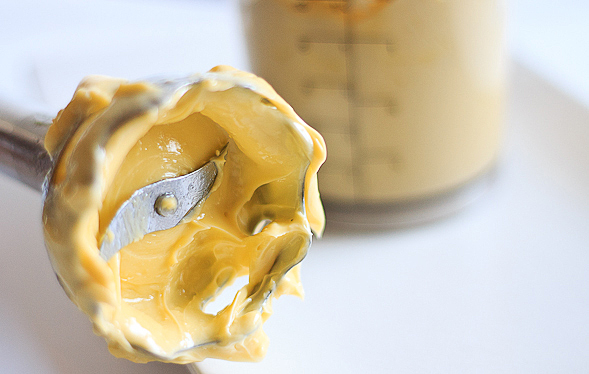 Garlic Mayonnaise – or aioli in France – is one of my favorite condiments. It's traditionally used with seafood but I love it on French fries, baked veggies (watch out for my oven baked sweet potato recipe), bread, tartines and sandwiches. You can pretty much use it on anything, and the taste of homemade mayo is nothing like the over-processed supermarket stuff.


Making your own mayonnaise is not easy. For me, it was always a two-man operation with my husband and things got really messy. Also, you have to make sure all the ingredients are at room temperature and when you start to incorporate the oil and the egg yolk, the timing has to be right. The oil is added very slowly until it emulsifies, if you add too much too soon you need to start all over again. This recipe is based on Serious Eats and it increases your success rate dramatically. Using a hand blender makes things a lot easier but also helps with the emulsification.
Traditionally, aioli is made with just olive oil but I'm using 1/2 cup of canola to tone down the strong olive oil flavor. Feel free to experiment with different ratios of olive oil to neutral tasting oils like grapeseed or canola. Leave out the garlic for regular mayo.


Click for recipe…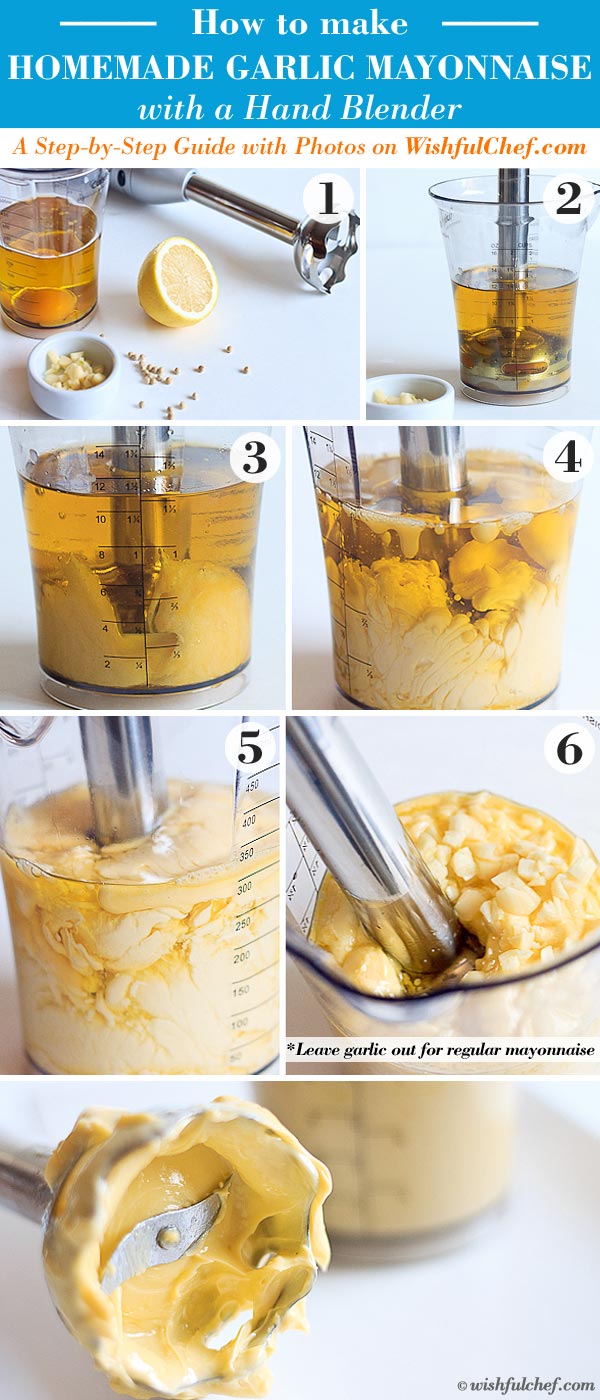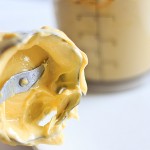 Homemade Garlic Mayonnaise Recipe
1 cup
oil (use a combination of olive oil and neutral tasting oil like canola)
2
egg yolks
1 tablespoon
fresh squeezed lemon juice
1 tablespoon
garlic, chopped (adjust amount to taste)
salt & pepper, to taste
Make sure ingredients are at room temperature before starting to mix. Place eggs in a cup of warm water to speed up the process if needed.
Add oil, egg yolks and lemon juice into a blending container. Place hand blender at the bottom of the container and turn on. Within seconds you will see the mayonnaise start to form at the bottom. It will begin to emulsify and become thick. IMPORTANT: make sure to not lift up blender until most of the oil has been incorporated; then begin to move up slowly.
Once your mixture feels like real mayo, add the chopped garlic, salt and pepper. Mix well and enjoy. Keep in an airtight container in the fridge and consume over the next few days (make sure to use the freshest, high-quality eggs available).

Total Time: 5 minutes
Yield: Makes about 1 1/4 cups
[if you enjoyed this post, please sign up for my newsletter to get the latest recipes]