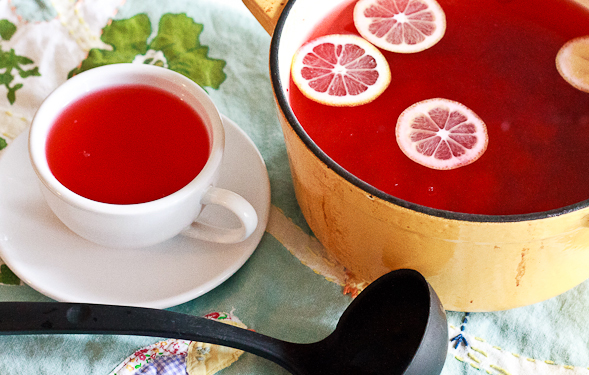 If you haven't made homemade tea before, let this recipe be your first. The flavors of this tea are wonderful. An aroma of cinnamon and cloves permeate the kitchen and the color from the cranberries give off a beautiful ruby red. Cranberries are quite tart, so feel free to add more honey or sugar if you like it sweeter.


Try not to be intimidated by this recipe, because it's actually quite easy to follow. This tea, like any other fruit based tea, can be enjoyed hot or cold. If you drink it cold, try adding club soda for a little fizz. And what did I do with the leftover cooked cranberries, you wonder? Stay tuned for the next recipe!


Click for recipe…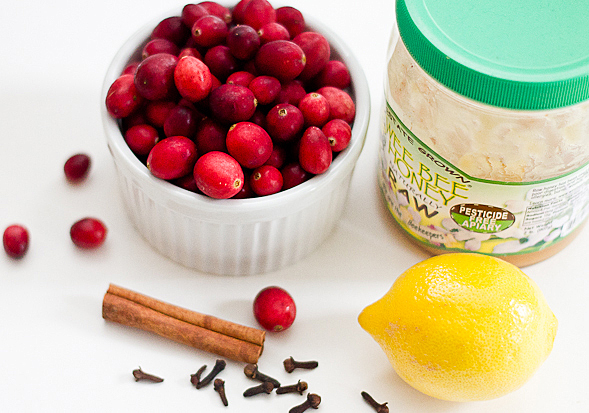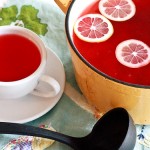 Cranberry Tea Recipe
1 pint
fresh cranberries
8 cups
water
2 tablespoons
raw honey
1
lemon, juiced
10
whole cloves
1
cinnamon stick
In a pot, combine water and cranberries and bring to a boil. Reduce heat and simmer for about 30 minutes. Add honey, lemon juice, cloves and cinnamon stick. Turn off heat, cover and steep for 1 hour. Strain out cranberries, cloves and cinnamon stick. Drink right away or store in a pitcher in the fridge for a few days. When serving, add more honey to cup if desired. Serve hot or cold.
Total Time: 90 minutes
Yield: Makes 8 cups


print recipe
[don't waste cranberries when done cooking, use them to make a delicious cranberry jam]