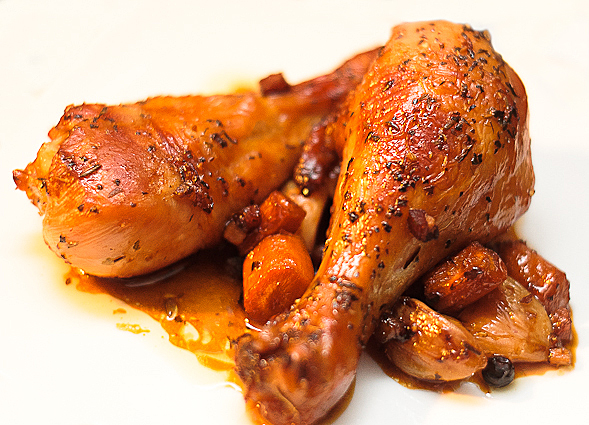 This recipe is adapted from Laura Calder's Beer Bird. In her recipe she uses whole cornish game hens but I use chicken drumsticks. Chicken thighs would work fine as well. The chicken is cooked in herbs, garlic, chopped carrots and beer. I used a dark doublebock beer which is a strong German lager. I thought it would only be fitting because it's Oktoberfest season!

This is a wonderful way to roast chicken because the addition of beer serves two purposes: it keeps the chicken meat moist and also creates a beautiful rich sauce. Serve the chicken with a side of mashed potatoes and a bottle of beer. Prost!

Click for recipe…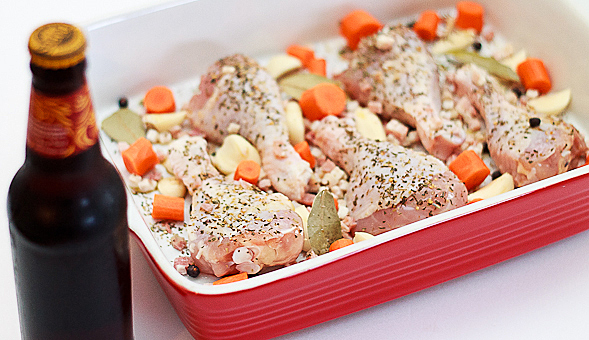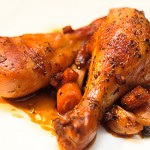 Chicken Baked in Beer Recipe
5-6
chicken drumsticks
1 whole head of
garlic, break into cloves and peel
4 ounces
cubed pancetta or sliced bacon strips
2
carrots, cut into 1 inch pieces
4
bay leaves
1 tablespoon
juniper berries (optional)
1 tablespoon
herbes de provence (or use any kind of dried herb like rosemary, thyme, or basil)
salt and pepper, to taste
1 1/2 cups (12 oz. bottle)
dark beer

Preheat the oven to 400°F.
Season chicken drumsticks with salt and pepper and place in a baking dish. Add the garlic, pancetta, carrots and herbs. Pour beer in the dish.
Bake for 15 minutes, then turn the drumsticks over and bake another 15 minutes. Turn over again two more times keeping every turn 15 minutes. After the fourth turn, the chicken should be cooked with a caramelized beer sauce. If the chicken is done but the sauce isn't caramelized, just keep the chicken warm while you boil the sauce down to your liking.


Total time: 80 minutes
Yield: Makes 4 servings


print recipe
[and for you wine lovers out there, here's a similar roast chicken recipe: Roast Chicken Thighs with White Wine, Pancetta, and Olives]