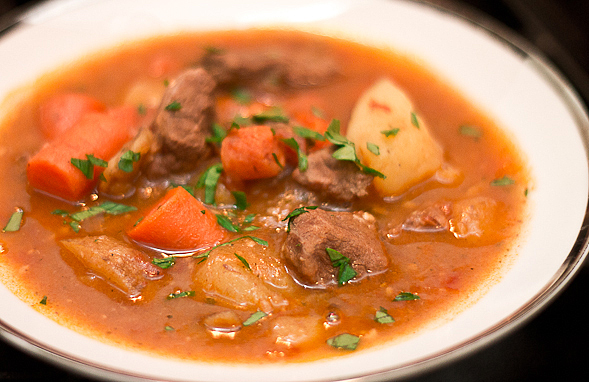 Beer is a great addition to stews. It's a simple way to create a great sauce without adding too many other ingredients. I used a lager beer but feel free to use any kind. The stew is cooked on low heat so make sure you're home long enough to check up on it!

My stew beef pieces were rather large, so I cut them in half before I browned them. I added roughly chopped potatoes and carrots to make it hearty and comforting. Serve this with a side of bread for appropriate dipping action. If you like this dish, try out my Chicken Baked in Beer.


Click for recipe…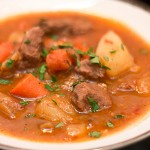 Beef in Beer Stew Recipe
2 pounds
stew beef
1 can

of beer

(12-16 oz.)
1 medium
onion, chopped
3
garlic cloves, chopped
2 tablespoons
olive oil
1/2 cup
chopped tomatoes
2 tablespoons
tomato paste
2 teaspoons
paprika
4
carrots, washed and roughly chopped (no need to peel)
4
potatoes, chopped into 1-inch chunks
2-3 cups
beef stock
salt & pepper, to taste
chopped parsley for garnish
Over medium-high heat, place oil in a dutch oven or large pot. Brown meat for about a minute and set aside on a plate.
Add diced onions and cook for about 3 minutes, then add garlic and cook for a minute. Pour in beer and 2 cups stock (save the other cup for later if needed). Add tomatoes, tomato paste, paprika, salt & pepper. Add beef back into the pot. Stir then cover and simmer on low heat for about 2 to 2 1/2 hours. If sauce is too thick just add extra stock.
Mix in carrots and potatoes to the pot then cover and cook for another hour, stirring halfway. At this point, sauce will become thicker. Add more salt & pepper if needed. Garnish with chopped parsley.


Total Time: 4 hours
Yield: 6-8 servings


print recipe
[try my Chicken Baked in Beer and Roast Chicken Thighs with White Wine, Pancetta and Olives for other great ways to cook with beer or wine]