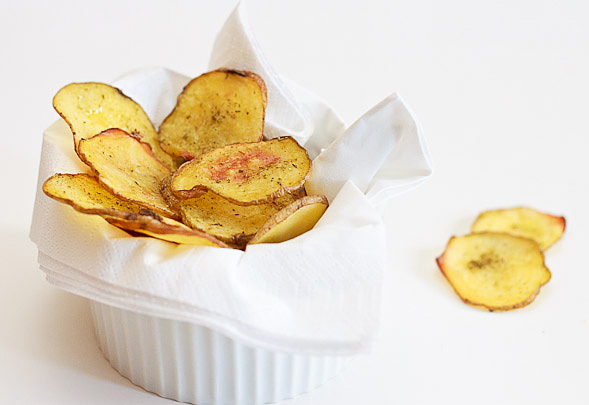 Ever since I got a mandolin slicer as a gift from my husband, I've been using it almost daily! Last night I was excited to make homemade potato chips, but of course I wanted a healthier alternative. Instead of frying the potato slices, I decided to make baked potato chips. Serve the chips as a delicious snack or together with a healthy dip during Super Bowl.

I like to bake them with a little seasoning, so I topped the chips with a mixture of dried rosemary, parsley and oregano, but use what you like. You can even bake the chips without all the seasoning and they'll taste great. I didn't slice mine too thin, about 1/4-inch. Depending on how thin your potato slices are, keep checking the oven to avoid burning the chips. To make these extra special, I went ahead and topped them with some bacon salt.

Click for recipe…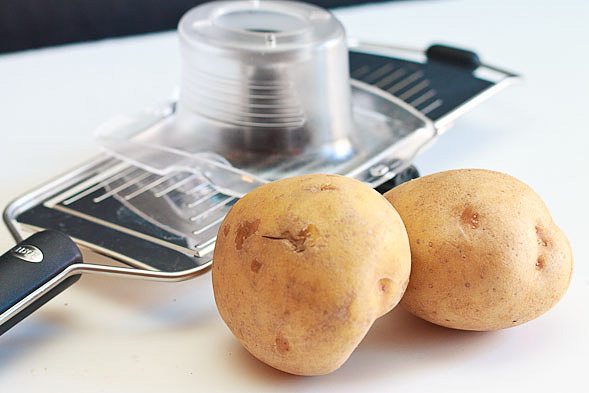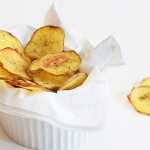 Baked Potato Chips Recipe

2 large
russet or yukon gold potatoes, sliced thin with a mandolin
olive, vegetable or canola oil cooking spray
dried herbs, to taste
salt, to taste
Preheat oven to 400°F. Slice potatoes with a mandolin and place slices in a bowl of cold water for 10 minutes. Drain and pat dry.
Place potato slices on a silicon lined baking sheet or parchment paper. Lightly spray potato slices with oil, then sprinkle dried herbs on top. Bake until potatoes are golden brown and crisp, about 25-30 minutes. Spread potato chips on parchment paper and let sit for 5 minutes. Sprinkle with salt, to taste.
Total Time: 40-45 minutes
Yield: 2-4 servings


print recipe
[Sign up for my newsletter or follow me on facebook / twitter to get new recipes]