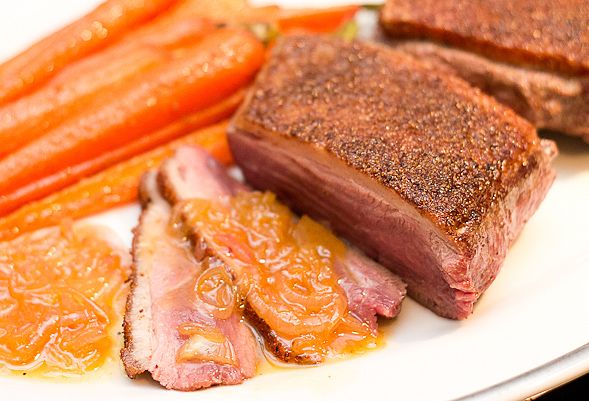 Here is the follow-up post to my spiced carrots which is loosely based on a recipe by Eric Ripert. Essentially it's a twist on the French classic Duck a l'Orange, a wonderful combination of flavors that complement each other perfectly. My first taste of it was actually in Germany during one Christmas when my mother-in-law made it with a side of crispy croquettes, small ball shaped mashed potatoes which are lightly breaded and fried. I was hooked! Duck is very fatty, so I don't make this dish often. But I'll make an exception since it's the holiday season.

Similarly spiced like the carrots, I seasoned the duck skin with cumin, chili, star anise and ginger. I used ground ginger instead of fresh, because I didn't want the ginger to burn. When seared in the pan, the spice mixture creates a flavorful crispy crust on the skin. After the duck is finished cooking, the sauce is made by deglazing the pan with shallots, agave syrup (or honey), orange and lemon juice. I paired this dish with a nice bottle of Pinot Noir.

Click for recipe…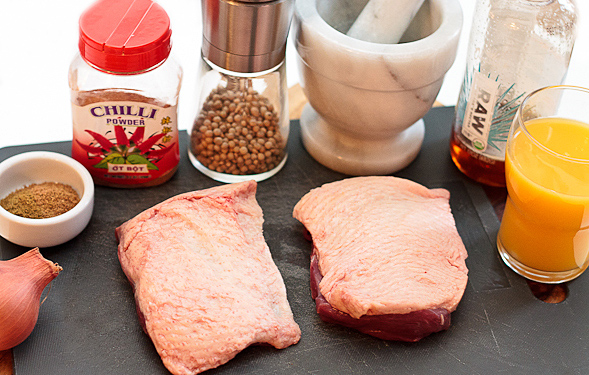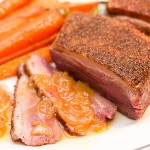 Spiced Duck Breast Recipe
2 6-8 oz.
boneless duck breasts
1/2 teaspoon
ground star anise
1/2 teaspoon
ground cumin
1 teaspoon
ground ginger
1/2 teaspoon
ground coriander
1/2 teaspoon
white pepper
1/2 teaspoon
chili powder
1 tablespoon
coconut oil, or canola
2
shallots, thinly sliced
2 teaspoons
agave, or honey
1/2 cup
orange juice
1/4 cup
lemon juice
1 tablespoon
coconut oil, or butter
salt, to taste
Season the duck breasts with salt on both sides, then add the star anise, cumin, ginger, coriander, white pepper and chili powder to the skin side of the duck breasts.
Heat a large pan over medium heat and add coconut oil. When hot, place the duck breasts skin side down in the pan. Lower to medium low and cook until skin is golden brown and crispy, about 12-15 minutes. Flip the duck breasts over and cook until medium rare, about 3-4 minutes. Transfer the duck breasts to the cutting board to rest.
Over medium heat, add the sliced shallots and cook until soft. Add the agave, orange juice and lemon juice and reduce the liquid. Whisk in coconut oil or butter to finish the sauce. Season with salt.
Thinly slice the duck breasts and pour over the orange shallot sauce. Serve with spiced carrots.
Total Time: 25 minutes
Yield: 2-4 servings


print recipe
[Sign up for my newsletter or follow me on facebook / twitter to get new recipes]