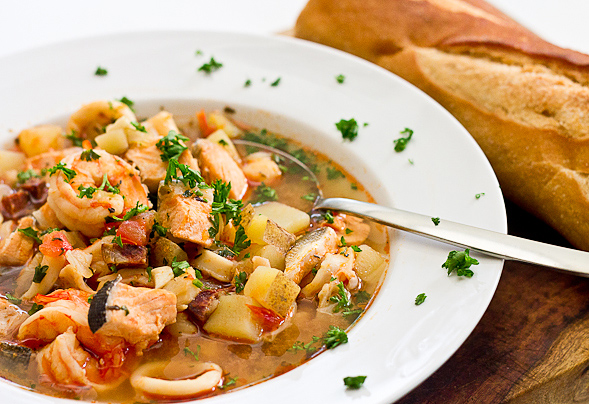 With colder weather finally coming to New York, I felt like cooking a comforting dish with some heat that's not overly rich and heavy. A spicy seafood stew sounded perfect. The spice comes from Spanish chorizo sausage I cut into cubes and some chili flakes. Chorizo is seasoned with smoked paprika, salt and herbs adding a wonderful flavor and depth to the broth.

This stew is rich with tomatoes, potatoes and chunks of seafood. Make sure you go to your local fishmonger to get the freshest seafood. I added shrimp, bay scallops, squid and arctic char, but you can add any type of seafood you want. Check out the soups and stews section for more comforting recipes this winter!

Click for recipe…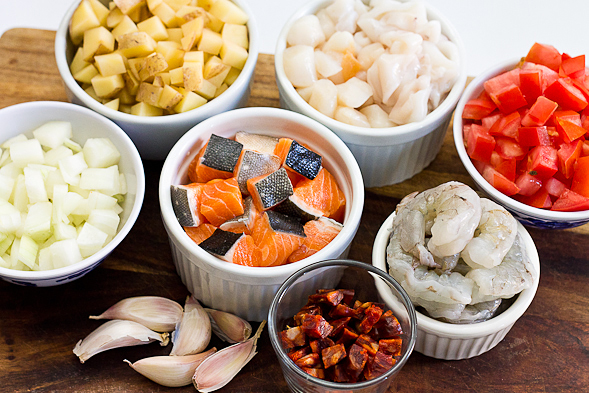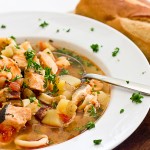 Seafood Stew Recipe
1/2 cup
spicy chorizo, diced
1 small
onion, chopped
4-6
garlic cloves, chopped
1 large
potato, diced
1 large
tomato, diced (or can of diced tomatoes)
1 teaspoon
dried oregano
1 teaspoon
dried parsley
1 teaspoon
dried thyme
1
bay leaf
2 teaspoons
red pepper flakes, or to taste
1 tablespoon
tomato paste
4-5 cups
fish stock (chicken or vegetable will also work)
1/2 pound
shrimp, peeled and deveined
1/2 pound
bay scallops
1/2 pound
squid, sliced into rings
1/2 pound
fish, cubed (I used Arctic Char)
salt and pepper, to taste

Pour some olive oil in a large pot. Add the chorizo and cook for about 2-3 minutes over medium heat. Add the potatoes, onion and garlic and cook until the onions begin to soften, about 5-6 minutes.
Stir in the tomatoes and cook for about 2 minutes. Stir in the parsley, thyme, oregano, chili flakes, bay leaf, salt and pepper. Add the stock, and bring to a boil. Lower heat, cover and simmer for 15 minutes. Add scallops, shrimp, fish and squid. Bring to a boil then lower the heat, cover, and simmer gently, stirring occasionally, for about 5-7 minutes, until the seafood is cooked through.
Ladle the seafood stew into bowls. Garnish with fresh chopped parsley and serve with crusty bread.
Total Time: 45 minutes
Yield: 6-8 servings


print recipe
[if you enjoyed this post, please sign up for my newsletter to get the latest recipes]