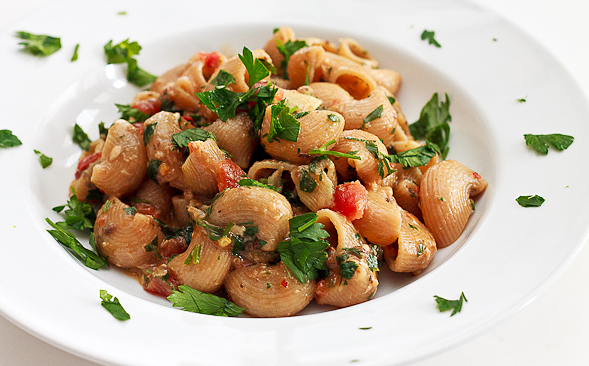 I like to stock up on certain go-to ingredients like canned beans for soups and canned sardines for simple pasta recipes. With only a handful of additional ingredients I can then make a quick and delicious meal.

For this recipe I'm using canned sardines. They are great to use in pasta dishes, rich in healthy omega-3 fatty acids, inexpensive and already cooked. So if you've never worked with sardines before, I recommend giving it a shot!
Make sure you buy high-quality canned sardines packed in olive oil and spend a little extra. Trust me, it's worth it. And there may be a number of steps in this recipe, but once you try it out it'll be a breeze the next time.


Click for recipe…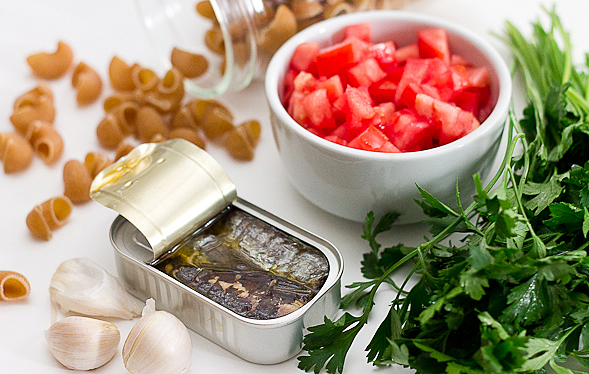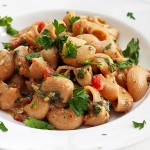 Sardine Pasta Recipe
8 ounces
small whole wheat pasta (chiocciole, penne or rigatoni)
1 can of
good sardines, packed in olive oil
3-4 cloves
garlic, thinly sliced
1/4 cup
olive oil
1
tomato, chopped
3/4 cup
fresh parsley, chopped
1-2 teaspoons
red pepper flakes (optional)
salt and pepper, to taste
Cook pasta according to package instructions, until al dente.

In a pan on low heat, warm the olive oil. Add sliced garlic and cook until a light sizzle to soften for about 3-5 minutes, make sure not to burn. Add entire can of sardines with olive oil and break up sardines into nice pieces. Raise heat to medium, until the sardines sizzle, then add chopped tomatoes and saute until cooked down, about 10 minutes.
Add red pepper flakes and season with salt and pepper. Add chopped parsley and stir for about a minute. Add pasta in the pan with the sardine sauce and toss well to combine. If it seems dry, just add a little olive oil. Garnish with more parsley.
Total Time: 30 minutes
Yield: 2-4 servings


print recipe
[if you enjoyed this post, please sign up for my newsletter to get the latest recipes]