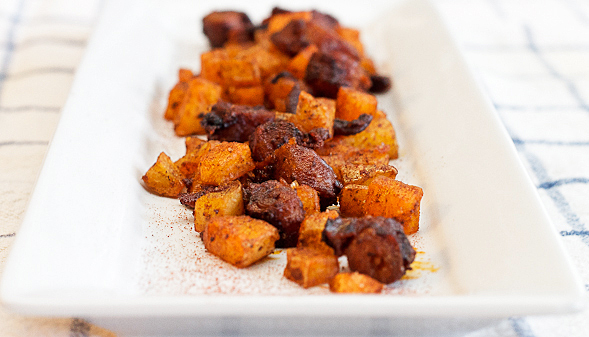 Everyone loves tapas and they're also one of my favorites. I love the variety of little things to choose from and the communal sharing aspect that usually is part of eating tapas. A classic ingredient in Spanish tapas is octopus – or pulpo in Spanish. And keeping this dish as simple as possible, I've decided to use canned octopus seasoned with smoked paprika, or pimenton, a spice commonly used in tapas dishes.


A nice addition to the octopus are crispy potato cubes which take on the beautiful color and delicious flavor of the pimenton. Serve this with a some Spanish red wine such as Tempranillo, add a few other little appetizers and share among friends.


Click for recipe…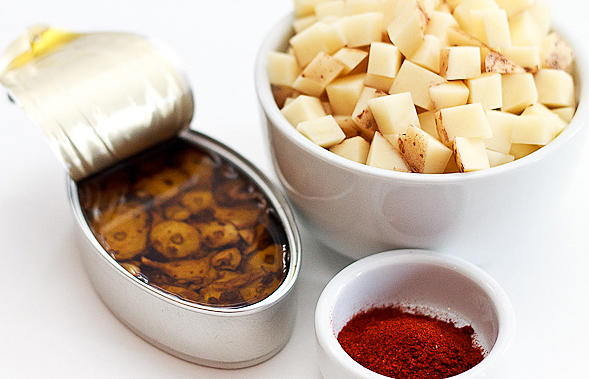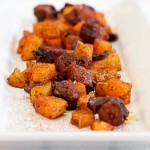 Smoked Paprika Octopus with Crispy Potatoes Recipe
1 4 ounce can
octopus in olive oil
1 large
potato, diced into small cubes
2 teaspoons
smoked paprika (pimenton), then more for garnish
1 teaspoon
sea salt
drizzle of olive oil
Wash cubed potatoes in water and drain to take starch out. Dry thoroughly and set aside.
Heat medium or large sized pan over a medium heat. Empty can of octopus and oil into pan and cook for about 10 minutes until crispy. You may need a splatter shield from the oil. Set aside on plate.
Add cubed potatoes and stir so the potatoes get coated with oil. Stir in salt, then cover and cook for 10 minutes. After 10 minutes, take lid off and cook for another 10 minutes, or until potatoes are golden brown and crisp. Stir occasionally so they crisp evenly.
Add octopus to pan. Stir in paprika. Place on serving platter and drizzle a little olive oil. Sprinkle with a little more paprika.
Total Time: 30 minutes
Yield: 2-4 servings


print recipe
[if you enjoyed this post, please sign up for my newsletter to get the latest recipes]