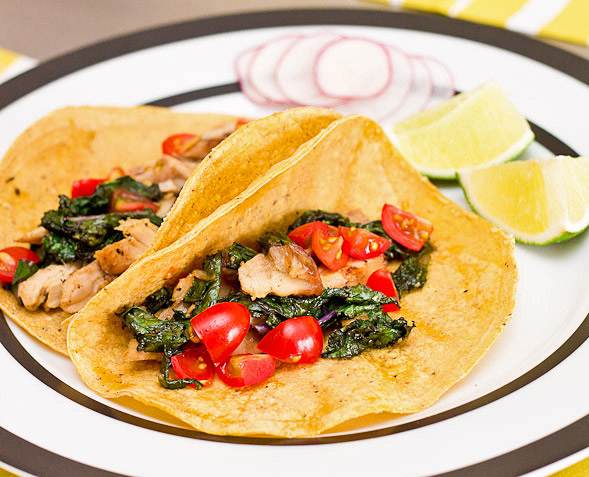 I think leftovers are essential if you're a home cook. I actually prefer some dishes the next day and look forward to a meal made of leftover food. Last night I made a delicious roast chicken and consciously decided to leave a couple chicken pieces to use the next day for some easy tacos with kale and fresh vegetables.

I love experimenting with leftovers. Roast chicken is great to use if you want to make tacos because you can easily shred or chop it up and season with any kind of Latin spices you want.

Click for recipe…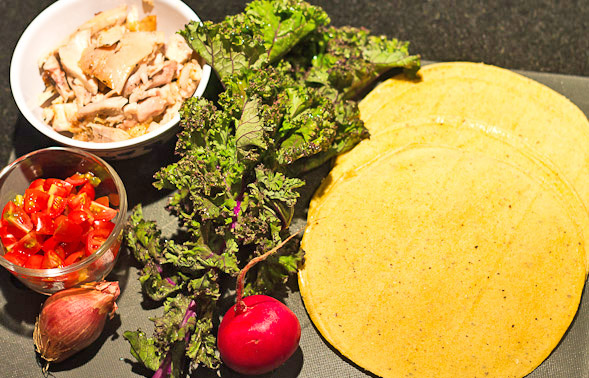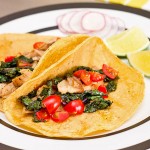 Simple Tacos with Leftover Chicken and Kale
4
corn tortillas
1 cup
leftover chicken, shredded or cut into pieces
4 leaves of
kale, roughly chopped
1 small
onion or shallot, diced
1 teaspoon
cumin
1 teaspoon
smoked paprika
1 teaspoon
chili powder, or to taste
a pinch of
salt
a pinch of
pepper
1/2 cup
chopped tomatoes
1
radish, sliced thin
1
lime, sliced into wedges
Prepare your vegetables by dicing the shallot, chopping tomatoes and slicing a radish into thin rounds; set all aside.
In a pan on medium-high heat, saute shallot with oil for about 3 minutes. Add leftover chicken and kale. Season with cumin, smoked paprika, chili powder, salt and pepper and cook until the kale wilts down, about 5 minutes. Heat another pan on medium-high heat and warm the tortillas for 30 seconds on each side. To serve, top the tortillas with the chicken and kale mixture. Top with tomatoes, radishes and a squirt of lime.
Total Time: 30 minutes
Yield: makes 4 tacos


print recipe
[Sign up for my newsletter or follow me on facebook / twitter to get new recipes]