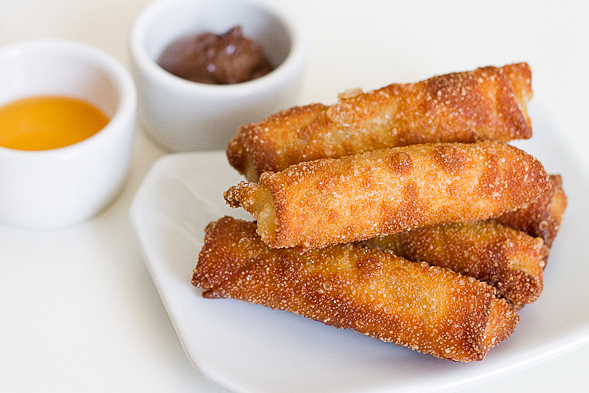 Turon are a popular street food in the Philippines sold by bike vendors. Traditional Turon are made with bananas or plantains rolled in brown sugar, then fried in oil with more brown sugar, along with sliced jackfruit on top. My recipe keeps it more simple and also a little healthier.
I typically avoid deep-frying, but I have to make an exception here. To fry the bananas I used coconut oil, which is a Filipino staple that tastes wonderful and is even said to have many health benefits. I use it for most of my frying, some people even use it as a skin lotion or to nourish their hair. I also like this recipe because I didn't have to fry all of the wrapped bananas at once. They can be made in advance and stored in the freezer for up to two weeks. Just thaw and fry whenever you're ready to eat them. I like to serve mine with honey or Nutella. Also, don't throw out the coconut oil after frying. Instead cool it down, then store in fridge and re-use a few more times.


Click for recipe…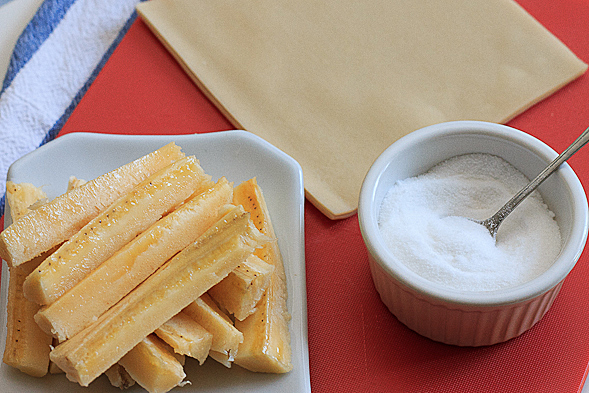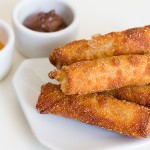 Filipino Turon Recipe
2
bananas (each banana sliced into 8 pieces)
16
egg roll wrappers (*use spring roll or gluten-free egg roll wrapper for gluten-free version)
2-3 cups
coconut oil (enough to cover bananas, use canola oil as a substitute)
sugar, to taste
water, for sealing

Slice each banana in half, then cut each piece into quarters. Lay out one egg roll wrapper on a clean surface. Place a banana piece on wrapper near bottom edge and sprinkle about a teaspoon of sugar on top. Roll sugared banana in wrapper once, then turn in edges and keep rolling. Seal the opposite edge with water.
Deep fry at 350°F until golden brown, about 3-5 minutes on each side. Drain on paper towels.

[try this with a scoop of Mango Sorbet for a truly tropical experience]

Total Time: 20-30 minutes
Yield: Makes 16


print recipe