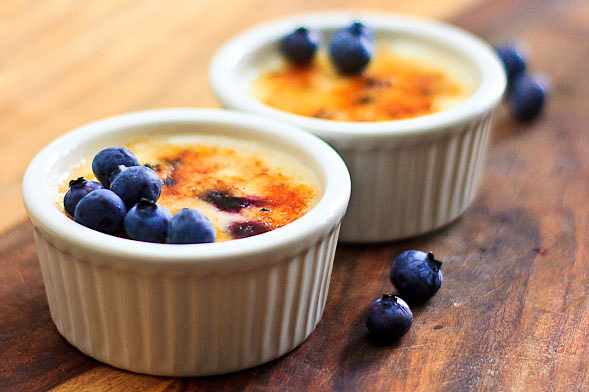 A favorite food blog of mine, Not Without Salt, back in August posted a wonderful recipe (if you call it that) for yogurt 'creme brulee' from Nigel Slater. I was amazed and could not wait to try it out myself. The recipe is simple. Place the fruit of your choice and honey at the bottom of a ramekin or small dish, top with yogurt, then add a dusting of sugar on the yogurt for the brulee treatment. Pure brilliance and as simple as it gets!

The only modifications I made were mixing the berries and adding some homemade muesli into the yogurt. The yogurt creme brulee is perfect for making ahead of time, similar to traditional creme brulee. I didn't add honey because I think the raisins and sugar topping are sweet enough. Be sure to check out my creme brulee recipe for more detailed instructions on how to caramelize the sugar. And feel free to substitute the muesli with your favorite granola.

Click for recipe…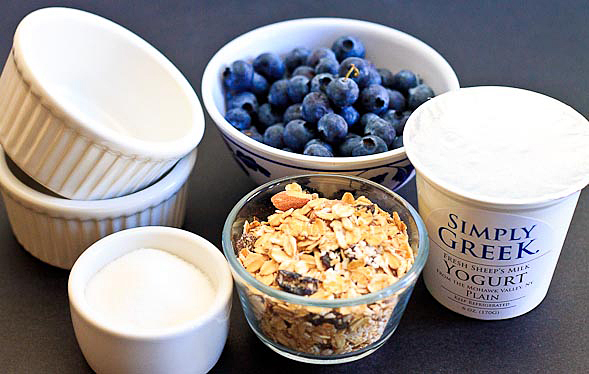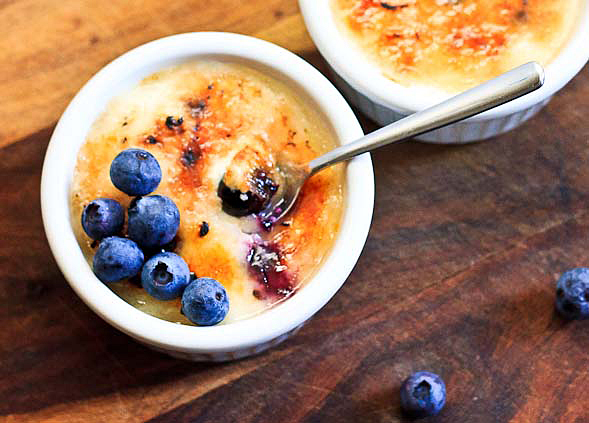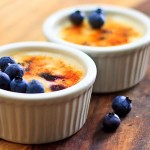 Yogurt with Caramelized Sugar Recipe
6 oz. container
thick yogurt (I used Greek yogurt with sheep's milk)
1/4 cup
blueberries, or to taste
1/4 cup
muesli or granola, or to taste
2-4 teaspoons
sugar
2-4
ramekins
In a small bowl, mix together yogurt, blueberries and muesli. Depending on how much fruit and muesli you add, spoon mixture into two to four ramekins. Top each with sugar and spread evenly.
For the caramel crust (see my original creme brulee infused with basil):
Pre-heat broiler on high. Broil in oven for about 5 minutes or until sugar has browned. If you're using a blowtorch, slowly sweep the flame back and forth about 3 inches away from the surface until the sugar melts and caramelizes into a shiny brown color. Garnish with more fresh blueberries.
Total Time: 10-15 minutes
Yield: 2-4 servings

[if you enjoyed this post, please sign up for my newsletter to get the latest recipes]