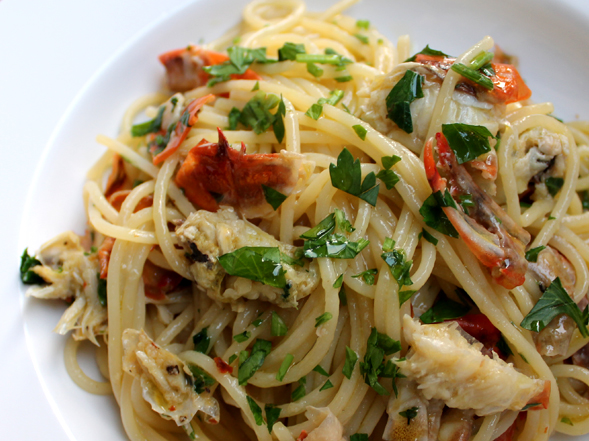 I love Blue Crabs. Every summer when they're in season, my family and I sit around a table full of crabs and just pick at them for hours (while seeing who can get the biggest piece of meat out). I'm a slow eater so I'm usually the last one at the table. I really don't like wasting food and have OCD-like tendencies so I want to get everything! That said, it was like an epiphany the first time I ate soft-shell crabs. The crab flavor is so much more intense since you eat the whole crab, shells and everything.
This recipe was the first time I made soft-shell crabs myself, thanks very much to Mark Bittman. My recipe is pretty similar to his but with a few minor tweaks. Regular pasta is delicious with it which makes the recipe nice and delicate, but I use Bionaturae whole wheat spaghetti pasta which gives it a bit more depth, so use what you like. I'm a garlic fan so I use a few more cloves and add more red pepper flakes for a nice spice. I also add more chopped parsley to add a fresh summer flavor, plus the more greens in your diet the better! Enjoy this dish with a white wine like a California Chardonnay.

Click for recipe…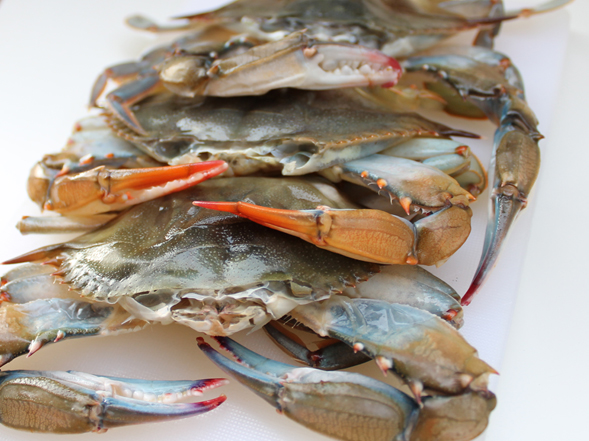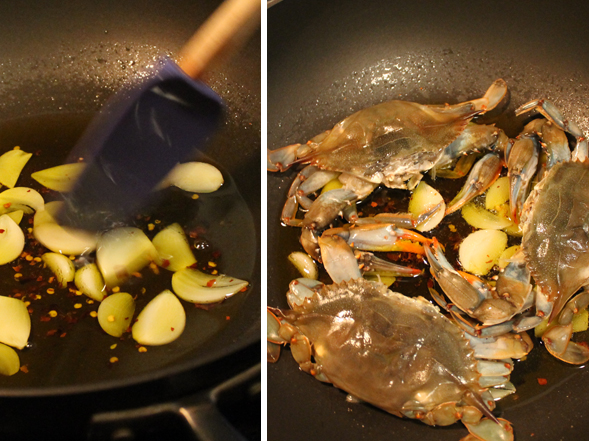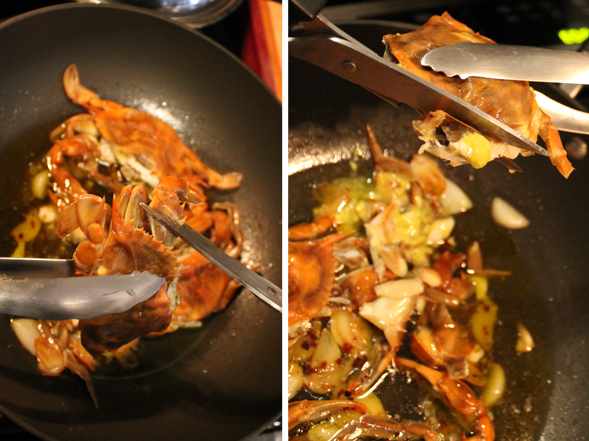 1/4 cup Olive Oil, then more for drizzling
4-6 Cloves garlic, sliced
1 teaspoon Red Chili Flakes
3 large or 4 small cleaned Soft-Shell Crabs
1 pound Whole Wheat Spaghetti pasta
3/4 bunch of Parsley, chopped
Salt and Pepper
In a deep pan over low heat, add oil, garlic and chili flakes. After about 5 minutes when garlic is soft, raise the heat to medium-low. Add the crabs to pan then cover. Cook pasta in the meantime. After about 15 minutes, crabs will turn red and become firm while letting out their liquid. Lift out crabs with tongs (see photos) and cut in pieces with scissors into the pot. Mix and season with salt and pepper to taste. When pasta is firm, short of al dente, drain and add to pan. Over medium heat, toss pasta, chopped parsley and crab sauce together. Add to serving bowls and top with more parsley and drizzle of olive oil.

Total Time: 30 minutes
4 Servings