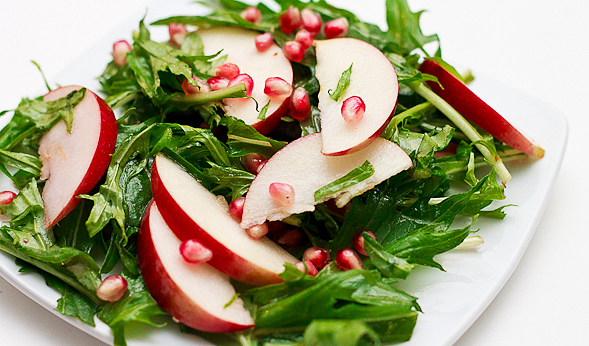 Today I made a healthy and simple salad using mizuna greens. Mizuna is a Japanese green and the flavor is delicious, like a peppery green similar to arugula, but milder. It's wonderful eaten raw but you can also have it sauteed, steamed, pickled or used in soups. I added sweet pomegranate seeds and apple slices to compliment the slight bitter flavor of the mizuna.

For the dressing I made a refreshing and light lemon vinaigrette with a hint of honey. Mizuna is sold at Asian grocery stores or health food markets. If you can't find mizuna greens, you can use arugula or mustard greens.


Click for recipe…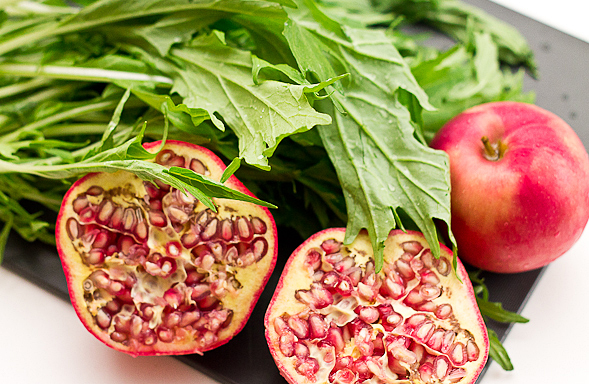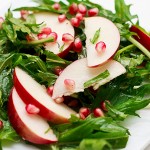 Mizuna Salad Recipe
1/2 bunch
mizuna, cleaned and roughly chopped
1
pomegranate, halved and seeds taken out (or 1/2 cup store bought seeds)
1
apple, sliced into thin wedges
Mizuna Salad Dressing Recipe
3 tablespoons
olive oil
1/2
lemon, juiced
1 teaspoon
red wine vinegar
1 teaspoon
honey
salt and pepper, to taste
For the dressing, whisk olive oil, lemon juice, red wine vinegar, honey and salt & pepper. Set aside.

Place mizuna greens and apple slices in a large bowl. Cut pomegranate in half and hit the back side with a rolling pin (or other device) to release seeds, see photo above. Pour in dressing and toss well. Arrange salad on serving plates.


Total Time: 10 minutes
Yield: 4 servings


print recipe
[if you enjoyed this post, please sign up for my newsletter to get the latest recipes]