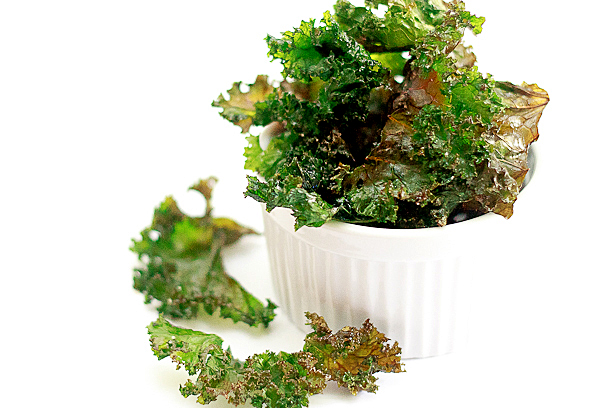 I use kale a lot in my cooking and I usually pick up a bunch or two when I'm at the store. It's packed with vitamins and other nutrients. I like to use it raw in green smoothies or cook into soups or stews like my Lentils and Brown Rice dish. If kale is too tough for your palate, try eating it as crispy chips. Besides being a very healthy snack, it's way easier than making potato chips yourself. Try it out, they're delicious and super crunchy!
With only a few basic ingredients, you'll have a healthy and addictive snack. Feel free to experiment with your ingredients. Add in some chili powder for a little kick or thinly sliced garlic as an addition. My recipe is basic and uses only olive oil, salt and parmesan cheese.


Click for recipe…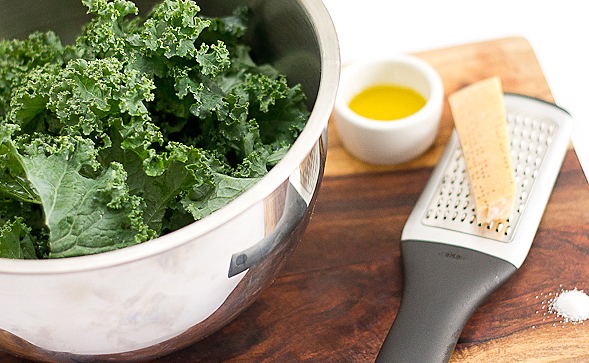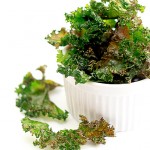 Parmesan Kale Chips Recipe
1 bunch
curly kale
1 tablespoon
olive oil
1/2 teaspoon
salt, or to taste
1-2 tablespoons
grated parmesan
Preheat oven to 375°F.
Cut leaves off the thick stems into large pieces. I used kitchen shears and cut each leaf into about four pieces. Rinse under cold water and dry well with a kitchen towel. In a large bowl, mix together the kale leaves, olive oil, salt and parmesan.

Spread leaves out on a cookie sheet. Bake for about 15 minutes, until the edges are brown and kale is crisp when shaken in the pan.

Total Time: 20-30 minutes
Yield: 4-6 servings


print recipe
[if you enjoyed this post, please sign up for my newsletter to get the latest recipes]